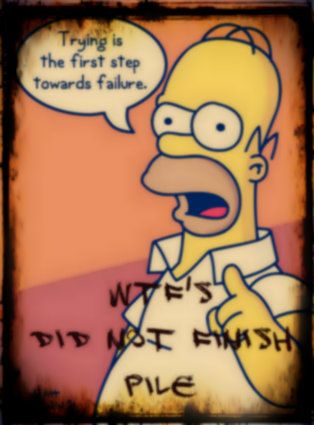 It is with a heavy heart and very red and tired eyes,
(tired from reading...not crying)
that I have finally thrown in the towel
and declared that though I have
tried...and tried...and tried
(I really DID TRY! FOR DAYS)
There is NO WAY that I could EVER FINISH
THIS
BOOK!
Title: The Immortal Rules
Author: Julie Kagawa
Format: E-Galley
Length: 485 pages
Publisher: Harlequin Teen
Time of Surrender: Somewhere Around 80% Complete
This book has a wonderful premise which loses a lot in execution, leaving the reader with an amalgamation of the plots of Blade 2, 30 Days of Night, and Mad Max Under Thunder Dome. This is of course, accompanied by a seeming never ending stream of "happy coincidences" that work "oooh so perfectly" to assist our "little vampire lost" in whatever she is or is not trying to do.
Case in point.
Vampires can't travel during the day so she just happens to find a band of HUMANS to hang with WHO ONLY TRAVEL AT NIGHT!
PROBLEM SOLVED
This happens over and over and over!
Please do NOT take this to mean that I did not like anything about this book. I liked closing it a whole lot.
I love you Julie. Better luck next book!
P.S. The main character of this book is ASIAN not CAUCASIAN. Get the pretty white girl off the cover!!
Allison Sekemoto in the book does not equal Allison Smith on the cover.
I refuse to rate this review on the grounds that it does enough to incriminate itself.