Title: Along Came A Spider
(Transplanted Tales #3)
Author: Kate Serine
Format: ERC
Length: 251 pages
Publisher: Kensington
Rating: 5 Stars
Along came a spider…

When Trish Muffet is attacked at a grisly crime scene, the last person she expects to come to her rescue is Nicky "Little Boy" Blue. But since walking away from everything two years before, Nicky's been doling out vigilante justice as "The Spider," taking on the vicious predators of the night in hopes it'll lead him to his ultimate target – Vlad Dracula. And he needs Trish's help.

Although Nicky's renegade style goes against everything Trish stands for, she'll do what she must to bring Dracula down. With danger stalking her, Trish knows the only person she can count on is the one man who has the power to leave her breathless. There's no way she's letting this spider frighten her away… Goodreads
My Thoughts
I will be the first to admit that I was happier than the cow that jumped over the moon when I learned that there was to be a third release in the Transplanted Tales series.
Along Came a Spider, tells the story of Trish Muffet and her very own "dark knight" Nicky Blue, a.k.a "The Spider".
While everybody knows that spiders have always been Trish's number one no-no; an attack on the job gives Ms. Muffet a very good reason to believe that there are for more dangerous monsters lurking in the night.
Now she must reconcile her fear of spiders with her attraction to the man baring their ominous moniker.
He it seems, may be her only hope for escape from Dracula and his minions.
Nicky Blue is the bad boy doing good things and any reader with a healthy Robin Hood fetish is going to love him.
He provides the perfect dose of thugish rule breaker to Trish's goodie goodie.
While it is no secret that these two have felt a pull toward each other stronger that of gravity on Earth's orbit; now it seems that fate and the ultimate fanged baddie are working together to ensure that their paths do a lot more than cross.
But wait...
It seems that things aren't kosher at he FMA either. Bad things are going on between them and their human couterparts at The Agency, and tales are dying as a result.
To top things off the evil Agency seems to have Nicky in their sights and they are closing in fast.
Which leads one to wonder...
Can Trish an Nicky stay a step ahead of both The Agency and Dracula long enough to get to the bottom of things?
Can Trish and Nicky resolve the hurts of their past with the passions of their present?
Will either or both of them make it out of this alive?
To answer these questions and more...
Don't miss a minute of the fairytastic, passion filled, action packed, magical mystery that is
Along Came a Spider.
All About Kate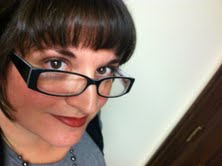 Like a lot of other writers, I began storytelling even before I could hold a pen, entertaining family and friends with intricately plotted stories and skits at family gatherings. By the age of six, I was writing poetry and short stories and gearing up for my first novel manuscript, which I completed when I was fourteen. Many other such "practice" projects followed through the years and are currently taking up residence in a 75-gallon storage trunk in my upstairs loft, anxiously awaiting revision or cannibalization for the good of other projects.
I write romance novels—currently of the paranormal, urban fantasy, and futuristic variety. But I fully intend to write horror, epic fantasy, sci-fi, and romantic suspense at some point. I'm represented by the fabulous Nicole Resciniti, who is an absolutely amazing agent! She is extremely patient with my penchant for breaking the rules when it comes to genres and knows exactly how to help me dial it back a notch while still keeping things edgy.
I live in a smallish, quintessentially Midwestern town with my husband (variously referred to online as Webmaster or Handsome Hubby), and two sons (henceforth known as Professor and Costello). When I'm not doing the day-job-thing or the wife/mom/maid/chauffeur/pack mule-thing, you'll find me curled up with my laptop and a strong cup of coffee busily and happily doing the writer-thing.
In addition to my
website
, you can find me on
Facebook
and
Goodreads
, or follow me on
Twitter
.
Kate's Giveaway!