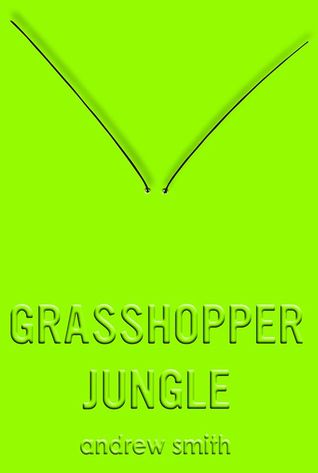 Title: Grasshopper Jungle
Author: Andrew Smith
Format: Ebook
Length: 388 pages
Publisher: Dutton Juvenile
Rating: 5 Stars

Sixteen-year-old Austin Szerba interweaves the story of his Polish legacy with the story of how he and his best friend , Robby, brought about the end of humanity and the rise of an army of unstoppable, six-foot tall praying mantises in small-town Iowa.

To make matters worse, Austin's hormones are totally oblivious; they don't care that the world is in utter chaos: Austin is in love with his girlfriend, Shann, but remains confused about his sexual orientation. He's stewing in a self-professed constant state of maximum horniness, directed at both Robby and Shann. Ultimately, it's up to Austin to save the world and propagate the species in this sci-fright journey of survival, sex, and the complex realities of the human condition. -Goodreads

My Thoughts
At first glance, Grasshopper Jungle is a very unassuming read. The more that readers come to know of young Austin, and his life in tiny Ealing, Iowa; the faster views and expectations change.
Not only is Austin dealing with the trials and tribulations of bullies, "maximum horniness", and his confusing attraction to both his girlfriend, Shann, and his best friend Robbie; as it turns out, he is also destined to be an "unlikely Adam" repopulating a world decimated by indestructible six-foot tall praying mantises, hell bent on doing the two things that six-foot tall praying mantises like to do.

Austin's narration of his life in Ealing, and the comings and goings of its quirky residents serves to draw the reader into the story long before the creep factor sets in.

The stories told in this read are presented in a series of inter-related vignettes, rather than the customary chapter by chapter format. Thereby, adding to the overall "off the beaten path" direction of this tale.
Andrew Smith's flare for the all-inclusive approach to storytelling lends itself perfectly to the cinematic view of the story's action. The reader is always front and center, whether the scene is a simple case of character observation or a down and dirty bug fight.
There is so much to love about Grasshopper Jungle. Do yourself a favor and take a closer look at this awesome apocalyptic epic.
.