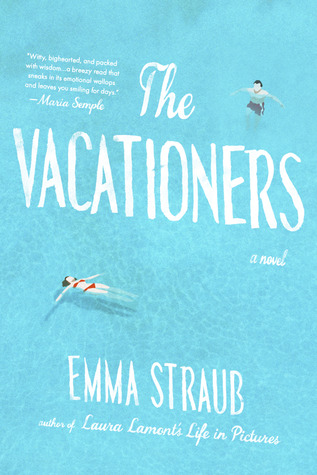 Title: The Vacationers
Author: Emma Straub
Length: 304 pages
Format: ERC
Publisher: Riverhead Hardcover
Rating: 2.5 Stars
An irresistible, deftly observed novel about the secrets, joys, and jealousies that rise to the surface over the course of an American family's two-week stay in Mallorca.

For the Posts, a two-week trip to the Balearic island of Mallorca with their extended family and friends is a celebration: Franny and Jim are observing their thirty-fifth wedding anniversary, and their daughter, Sylvia, has graduated from high school. The sunlit island, its mountains and beaches, its tapas and tennis courts, also promise an escape from the tensions simmering at home in Manhattan. But all does not go according to plan: over the course of the vacation, secrets come to light, old and new humiliations are experienced, childhood rivalries resurface, and ancient wounds are exacerbated.

This is a story of the sides of ourselves that we choose to show and those we try to conceal, of the ways we tear each other down and build each other up again, and the bonds that ultimately hold us together. With wry humor and tremendous heart, Emma Straub delivers a richly satisfying story of a family in the midst of a maelstrom of change, emerging irrevocably altered yet whole.
My Thoughts
The Vacationers is a well written story that takes a very long time to take 7 characters on a very predictable plot loop.
Sure, the Posts went on a vacation. A sunny, all inclusive vacation, on a tropical island.
The problem?
They brought their PROBLEMS with them.
So readers are forced to sit through page after page of these people ignoring their individual "pink elephants" to each other; while sharing those suckers with we who read in full whine fests.
Leaving readers to ask...
What exactly these people plan to do about their:
Affairs?
Insecurities?
Money Problems?
Family Issues?
Answer
Nothing for countless pages.
Complain.
The wrong thing.
The characters are likeable enough...except for the pain in the...known as Franny.
While it is true that this book is an experience. Like watching paint dry, it is not one likely to be repeated.