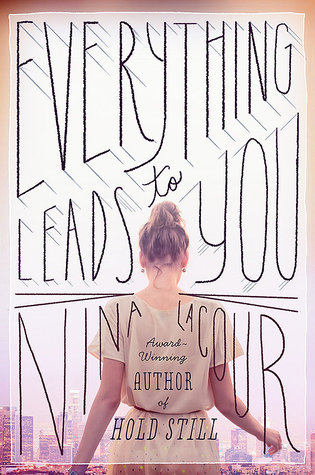 Title: Everything Leads To You
Author: Nina Lacour
Format: Print
Length: 320 pages
Publisher: Dutton Juvenile
Rating: 4 Stars
A love letter to the craft and romance of film and fate in front of—and behind—the camera from the award-winning author of Hold Still.

A wunderkind young set designer, Emi has already started to find her way in the competitive Hollywood film world.

Emi is a film buff and a true romantic, but her real-life relationships are a mess. She has desperately gone back to the same girl too many times to mention. But then a mysterious letter from a silver screen legend leads Emi to Ava. Ava is unlike anyone Emi has ever met. She has a tumultuous, not-so-glamorous past, and lives an unconventional life. She's enigmatic…. She's beautiful. And she is about to expand Emi's understanding of family, acceptance, and true romance. -Goodreads
My Thoughts
This is a book about pieces. Pieces of a broken heart destined to heal. Pieces of a life steeped in lies and secrets. Pieces of a set, on a movie that becomes the gateway to something EPIC!

The first 100 of this read seem to go around in circles.

Emi is a great character, but her off again on again love affair with her long-term girlfriend Morgan, made me want to throw this book on several occasions. Meandering plot lines it seems are a running theme in this read.
The story of the letter brings us to meander number 2. This one at least makes sense, and thankfully leads to Ava.
Ava, to me is the savior of this read. Her sweet demeanor and sad past, coupled with everything that helping her brings out in Emi more than makes up for all the wasted time earlier on.
The film making aspect of this read doesn't seem all that key to the story's plot early on. As time progresses however, one comes to see that the film is central to the growth and epiphanies of this story.