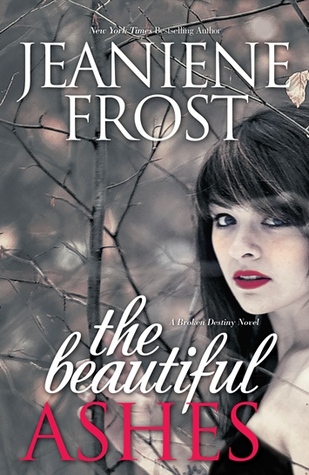 In a world of shadows, anything is possible. Except escaping your fate.

Ever since she was a child, Ivy has been gripped by visions of strange realms just beyond her own. But when her sister goes missing, Ivy discovers the truth is far worse—her hallucinations are real, and her sister is trapped in a parallel realm. And the one person who believes her is the dangerously attractive guy who's bound by an ancient legacy to betray her.

Adrian might have turned his back on those who raised him, but that doesn't mean he can change his fate…no matter how strong a pull he feels toward Ivy. Together they search for the powerful relic that can save her sister, but Adrian knows what Ivy doesn't: that every step brings Ivy closer to the truth about her own destiny, and a war that could doom the world. Sooner or later, it will be Ivy on one side and Adrian on the other. And nothing but ashes in between… -Goodreads
As readers wait with baited breath for her newest release, a New Adult story entitled The Beautiful Ashes. WTF Are You Reading? was lucky enough to snag a bit of best selling author Jeaniene Frost's time for the chat below.
WTF:
What made you venture into the world of New Adult while at the same time embarking on a new series?
Jeaniene:
Back in 2007, when I first got the idea for The Beautiful Ashes, the New Adult (NA) genre didn't exist. All I knew was that my heroine, Ivy, was too old for high school, yet too young to fit the "adult" mold that existed at the time. I ran into a similar issue back in 2006 with Halfway To The Grave. In my original draft, Cat was nineteen, but I was told by my agent that I had to age her up to sell. Thus, in the published version, Cat was twenty-two, which was still far younger than many heroines in the adult market. With Ivy in The Beautiful Ashes, however, her age wasn't really flexible. At twenty, Ivy is old enough to make adult decisions and deal with very adult situations, but she's still finding herself on the inside. The fact that Ivy has to find herself while being thrown into a war between angels and demons, not to mention having a supernatural destiny that she's unaware of, makes things that much more complicated.
WTF:
Do you find it easier/harder to write NA versus Adult?
Jeaniene:
NA eclipses the time frame between high school and "real" adulthood, or around the 18 – 25 range. So many significant things happened to me during that time period (moving out, first job, getting married, first death of a friend, etc) that I think it's rife with emotional tension and significance. I didn't find much difference between writing NA and Adult, actually. Perhaps it's because, as I mentioned above, my heroine from my debut series was almost the same age as Ivy in The Beautiful Ashes. I do think NA provides a great way to explore all the drama of first loves, first heartaches, and being on your own for the first time, all while not being quite sure if you can handle everything that life throws at you. Who can't relate to that?
WTF:
Where were you when the inspiration for The Beautiful Ashes struck?
Jeaniene: Where I usually am when I get my best ideas – asleep. Seriously, ever since I was a child, I've had vivid, detailed dreams. As I teenager, I used to write them down and make little stories out of them. Later, when I turned thirty, I took a vivid dream about a half-vampire woman arguing with a Master vampire man about why she'd left him years ago and turned it into the Night Huntress series. With The Beautiful Ashes, my dream was about a girl who could see realms just beyond our own, but of course, everyone told her she was crazy. When she ended up trapped in one, she found out all her "hallucinations" were real and that the other realms she'd glimpsed were inhabited by demons. I switched things up a bit with that dream to make Ivy's sister the one who's trapped in the demon realm. That way, the setting wasn't stationary, and it gave Ivy motivation to go looking for a weapon that could take down demons. Of course, the only person who can help Ivy find this weapon is Adrian, a man with ties to the demons and a destiny that's in direct opposition to Ivy's.
WTF: What is your favorite part of the writing process?
Jeaniene:
My favorite part is discovering more about my characters. When I write, I have a sparse, general outline, much like you get with Mapquest directions. Those might tell you where to go, but they don't tell you what you'll see, feel or experience along the way. That's how my writing process is. When I start out, I know the direction I'm headed in, but all the details come to me as I write, not before I write. That makes the journey fun, exciting and surprising for me.
WTF:
You seem to have a love affair with the written word. When and how did it begin?
Jeaniene:
When I was twelve years old and I read my first romance novel! Before anyone judges me, there was no YA genre back then. You had Sweet Valley High, Judy Blume or Nancy Drew, and that was pretty much it. I wanted books with more depth, more emotional highs and lows, and romance novels gave that to me. Then, I wanted to write something that would make other people feel the same way I had felt when I was reading them. It took me a while, but I hope that I finally did it.
WTF:
Do you concentrate on one project at a time, or are you working on several at once?
Jeaniene:
I have the writing equivalent of tunnel vision, so I concentrate on one project at a time. Granted, I may have to do revisions on Book C while still writing Book B because with my release schedule, overlaps are unavoidable. But I don't write two new stories at the same time. I get very involved with my characters, when I write, so it's too hard for me to split my attention between different stories/characters except to do the necessary edits.
WTF:
Have you ever solved an issue that you had with one story line while writing another?
Jeaniene:
No, probably for the reason I stated above. When I write, I am fully absorbed in the story in front of me. I love those characters the most, I love that world the most, and I don't even want to think about other stories. Then, when I'm done with that book, I move on to the next set of characters/story and abandon the one before it. Call me a literary two-timer *wink*.
WTF:
How does it feel to know that people are now having love affairs with your characters and your stories?
Jeaniene:
It is such a cool thing! Writing sometimes feels like forcing the voices in my head to earn their own living, so knowing that other people connect with these characters the same way that I do is a wonderful feeling. Otherwise, I'm just a borderline schizophrenic who makes up different adventures for people who only exist in the dark recesses of my mind. I'd much rather call myself an author instead :).
About Jeaniene