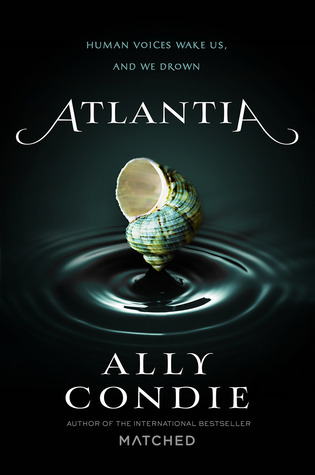 Title:
Atlantia
Author: Ally Condie
Format: ERC
Length: 368 pages
Publisher: Dutton Childrens
Rating: 4 Stars
Can you hear Atlantia breathing?

For as long as she can remember, Rio has dreamt of the sand and sky Above—of life beyond her underwater city of Atlantia. But in a single moment, all her plans for the future are thwarted when her twin sister, Bay, makes an unexpected decision, stranding Rio Below. Alone, ripped away from the last person who knew Rio's true self—and the powerful siren voice she has long hidden—she has nothing left to lose.

Guided by a dangerous and unlikely mentor, Rio formulates a plan that leads to increasingly treacherous questions about her mother's death, her own destiny, and the complex system constructed to govern the divide between land and sea. Her life and her city depend on Rio to listen to the voices of the past and to speak long-hidden truths. -Goodreads
My Thoughts
Atlantia is a very hard story to pin down. A major reason for this being that it unfolds at a very slow pace.
Rio Conwy is a girl restrained. Kept away from her dream of a life in the Above by a last minute decision by her sister. Warned never to use her Siren's gift by her mother. Haunted by unanswered questions surrounding her mother's death and the surviving aunt that she has never been allowed to know.
The first third of the book is spent following Rio through loss after loss. Her mother, her sister, her place in the temple, and the life that she has always known.
Things don't really begin to unfold until she starts to interact with her aunt Maire, a powerful but feared siren.
As the story begins to unfold, and secrets about the inner workings of Atlantia are revealed; reader connection with Rio and her plight intensifies.
There is also a bit of a romance between a young man named True. True is so much more than a romantic interest however, he proves very important to the story's final outcome.
At its heart, this is a story about life, love, and one person's power to speak for those who have no voice.