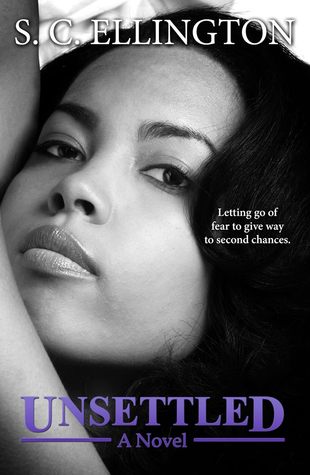 Title: Unsettled
Author: S. C. Ellington
Format: ERC
Length: 165 pages
Publisher:
Rating: 4.5
After a horrific breakup with her longtime boyfriend, Brooklyn Caldwell is completely disenchanted with the notion of mingling with the opposite sex. Damon Williams had been everything she thought she wanted…until he wasn't.
In an attempt to escape her heartbreaking past, Brooklyn seeks refuge in bustling Washington, D.C. where she folds into the fast-paced society unnoticed…until she meets a young entrepreneur, Logan Colton.

Brooklyn is surprised to find that while she has been successful in keeping the opposite sex at bay, somehow she is defenseless against Logan's confidence and charm—and it doesn't hurt that he is absurdly beautiful. While thrilled with Logan's candor, Brooklyn hesitates, as she can't seem to move past the heartache that she suffered at the hands of Damon.

As much as Logan didn't plan on pursuing her, he is drawn to Brooklyn's muted beauty and her witty persona. For all his success, Logan is ensnared in the coveted world of unequivocal wealth and power, but behind closed doors is taunted by demons and an undeniable need to atone for a monumental mistake.
As the two embark on a tumultuous obstacle course saturated with unknown twists and turns, Brooklyn is left to question whether she can endure the journey ahead.
My Thoughts
Unsettled presents readers with a moderately paced, intelligently expressed, and highly engaging romance.
Both leading man Logan, and leading lady Brooklyn, may live among the ranks of the walking wounded, but they have not let their enshadowed pasts dim their promising futures.
High praise goes out to author S.C.Ellington for her choice of a strong multiracial cast, as well as her very masterful dodge of the stereotypic faux pas that sometimes occur when multiracial relationships are written.
There is quite a lot of novel packed into the scant 165 pages comprising Unsettled. Page upon page of courage, resiliency, pain, loss, lightheartedness, and love.
Author Ellington also proves herself a master at tackling character relatability. This is most brilliantly exemplified by leading man, Logan. The fact that he is a very rich and powerful man ceases to be an issue shortly after his interactions with Brooklyn begin. He simply becomes man to her woman, allowing room for reader attention to shift from issues of money and class to those involving the thrill of the chase.
The sensuality found in this read holds at a warm and intense medium heat, with reader focus being geared much more toward the romantic aspect of their coupling, rather than raw physicality.
Nods of recognition must also be given to a well written supporting cast; unobtrusively providing the plot driving drama, stellar character interaction, and emotional framework that are the making of a great story.
The only thing standing in the way of a well deserved 5 Stars for this rapturous romance, is the rush at book's end.
This is not a major detraction from the story as a whole however, and may be easily rectified in later continuations of the series.
About S.C. Ellington
S.C. Ellington is an up and coming author who enjoys expressing her creativity through frequently writing adult, contemporary romance novels that readers can relate to, but more importantly, enjoy.
Aside from writing, Ellington enjoys curling up with her e-reader and absorbing herself in novels loaded with emotion, desire, and passion. She also likes to spend sunny, wistful afternoons, in her hammock thinking up new ideas for great stories. Her debut novel, Unsettled was generated while consuming her favorite snacks - hot chocolate and popcorn
Ellington currently resides on the west coast with her beautiful Keurig, family and loving friends.
a Rafflecopter giveaway