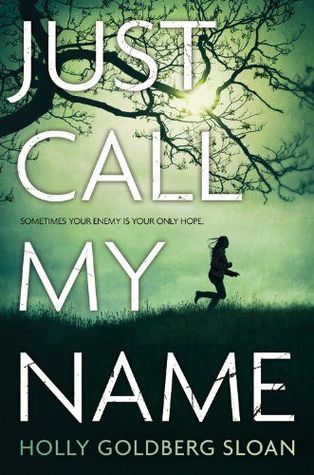 Title: Just Call My Name
Author: Holly Goldberg Sloan
Format: ERC
Length: 352 pages
Publisher: Little Brown & Co. BFYR
Rating: 4.5 Stars

The happily-ever-after of Holly Goldberg Sloan's acclaimed debut, I'll Be There, is turned on its head in this riveting, emotional sequel about friends, enemies, and how those roles can shift in a matter of moments.

Emily Bell has it all. She's in love with a boy named Sam Border, and his little brother has become part of her family. This summer is destined to be the best time of their lives--until a charismatic new girl in town sets her sights on Sam. Now Emily finds herself questioning the loyalty of the person she thought she could trust most.

But the biggest threat to her happiness is someone she never saw coming. Sam's criminally insane father, whom everyone thought they'd finally left behind, is planning a jailbreak. And he knows exactly where to find Emily and his sons when he escapes...and takes his revenge. -Goodreads

My Thoughts
Reviewer's Note: I must preface this review by stating that though I have since become aware that this work is the second in a series; all statements made here are based on my former belief that this book was a standalone.

Sam and Riddle Border have finally found their way to happy.
With their abusive father in jail, Sam in college, and the Bells planning to adopt Riddle...life couldn't be closer to perfect.
But no one knows better than the Border boys how flawed the illusion of perfection can be.

This is a story that grips one by the heart-strings from word one. You want so badly for everything to work out for Emily, Sam, and Riddle, that closing the book before the inevitable downhill slide happens crosses your mind more than once.

Authoress Holly Goldberg Sloan writes foreboding and tension into her tale with an ease and precision that causes readers to feel that they are the one's being "overly sensitive or paranoid" about that evil that seems to be lurking just around the corner.
As time and pages prove however, a perceived evil is often rooted in malevolent intent.
The surprise and "oooh gotta read it moments" come when readers find out the who's why's and WTF's of the peril, and the lengths to which depravity can drive the human soul.

Strangely, it is not any lack in the story that settles the rating for this book just shy of the 5 star mark.
It is a character, Destiny, the bad girl drifter, bent on destruction of whatever is in her path.
Destiny is supposed to be a menace.
What she is in truth is the too loud, too drunk, too needy, girl at the party.
She does manage to redeem herself, but not before the damage is done.

This is a wonderful story. A great end to a perilous and uplifting journey.