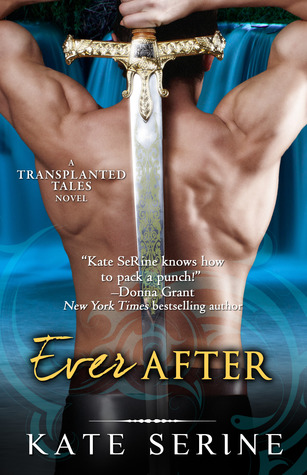 Title: Ever After
(Transplanted Tales #4)
Author: Kate SeRine
Format: ERC
Length: 284 pages
Publisher: Kensington Books
Rating: 5 Stars
Buy The Book: B&N Amazon Kobo
To Catch a Thief…

For centuries, Gideon Montrose has served the King of Fairies without question and, often, without mercy. So when the King orders him to apprehend a notorious thief, Gideon obeys. But when he finally gets his hands on the beautiful culprit, Gideon's in for a shock.

Arabella Locksley is none other than the spirited, unpredictable woman he knew back in Make Believe as Robin Hood — the love of his life whose tragic death destroyed his chance at Happily Ever After.

Now, he has an impossible choice. Betray the woman he once loved, or the king he's bound to serve?
My Thoughts
The masterful weaver of dreams, authoress Kate SeRine is back, and the fourth offering in her Transplanted Tales series, entitled Ever After, is proving to be just as charmed as its predecessors.

This time around its all about Gideon.

That's right! That sexy, aloof, and seemingly untouchable heartthrob, who stole reader hearts and set imaginations ablaze in Violet and Seth's story, finally gets his time to shine.
To say that Gideon is a man with layers would be quite the understatement. It appears that this Unseelie empath is also a player in one of the most famous "tales" ever told.
You see my lovelies, it seems that our dear Mr. Montrose is none other than Little John of Robin Hood.
If that is not enough to set tongues wagging, the great love of his life is none other than Robin Hood herself.
Yes! You heard right.
Robin Hood is actually a girl, and it appears that Gideon was captured and pressed into the Seelie King's service while trying to save her from what he believed to be her death.
Well...now hundreds of years have passed and Gideon has made quite the life for himself in the royal house of Seelie.
It is in fact, while hot on the trail of shipments of very potent, and very powerful Vitamin D, a fairy dust drug made and distributed by the king that he discovers that his long lost lady love is very much alive and well.
And...let then games begin!

Ever After, is choc full of the edge of your seat action, minute to minute plot twists, and complex characters that has made the Transplanted Tales a staple on so many shelves.
Authoress Kate SeRine manages to up the ante of fantastical expectation with each addition to this wonderful series; book four being no exception.
Merging both old and new characters, bold and sexy plot lines, elements of mystery, magic, and mayhem, and a level of romance that has to be swooned over to be believed; Gideon's story is definitely one sure to keep pages turning and hearts burning for many a moon.

Can love truly conquer all?
Can one manage both love and duty?
Will there be a "happily" in Gideon's "ever after"?

For answers to these questions...and so much more, take a peak between the pages of Kate SeRine's Ever After.
Reviewer's Note
Though this is the fourth full volume of a series, it may be enjoyed as a stand alone. It is strongly recommended however, that it be read as part of its intended series.
All About Kate
Grand Prize ($50 gift card to Amazon, B&N, or BAM - Winner's Choice); signed paperback copy of EVER AFTER, and Transplanted Tales swag
And two winners will receive an e-book copy of the Transplanted Tales novel of his/her choice.
The giveaway is international, but the swag may differ slightly for an international winner due to shipping costs.
a Rafflecopter giveaway