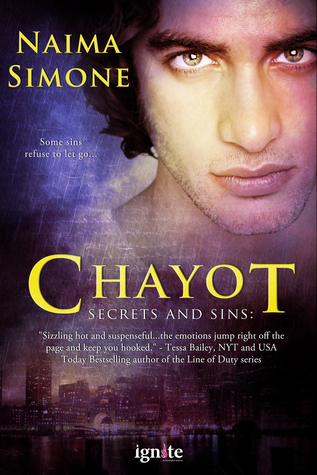 Title: Secrets and Sins: Chayot
(Secrets and Sins #4)
Author: Naima Simone
Format: ERC
Length: 290 pages
Publisher: Entangled/Ignite
Rating: 5 Stars

Six months after concert pianist Aslyn Jericho survives an attack at the hands of an obsessed fan, she is still trying to resume a normal life, despite the paralyzing fears that have stolen her ability to play and perform. Enter her gorgeous and mysterious neighbor with news that threatens to send her spiraling back into her nightmares. Her stalker has returned. And he wants Aslyn.

Months after security specialist Chayot Gray's darkest secret was exposed to the world, he's struggling to cope with the fallout. Shame and guilt threaten to consume him, and he longs for the anonymous, numb existence he's known for two decades. Then he discovers a masked figure lurking outside his neighbor's home. The pain-filled shadows darkening Aslyn's eyes call to him, and her loveliness stirs a desire he didn't know existed. Now Chay must conquer his inner-demons in order to save her from a madman determined to finish the job he started... -Goodreads

My Thoughts
Chayot Gray is a man haunted by the the ghosts of horrific happenings in his past that have cost not only him, but those nearest and dearest to him freedom, love, careers, and money.
While those around him have managed to not only reclaim all that they lost, but thrive; Chayot has remained closeted and alone. Unable to escape the chains of guilt and pain that bind him to a past he is desperate to escape.

Aslyn Jericho is not only haunted, but hunted and the specters dogging her every step are proving much more real...and deadly!
Just six months after a deranged stalker killed her assistant and stabbed her; famed concert pianist, Aslyn, has traded the bright lights and big city life of L.A. for the seemingly idyllic normalcy of a Boston suburb.
Little does she know that her world is about to be disrupted at the hands of a madman yet again, or that help and salvation live just next door.


Chayot, is a high octane romantic thriller that draws readers in with strong and intelligent characters, snarky wit, volcanic passion, and a complex plot.
Title character Chayot Gray, is the perfect blend of "tarnished knight" and alpha male; that makes readers want to swoon for him one moment and comfort him the next.
Though the threat to leading lady, Aslyn, is a physical nemesis, the psychological pain suffered by Chay presents an ever present danger that serves to anchor the reader on a far more emotional level.
His "walking wounded" status, coupled with the fact that he is both honor bound and professionally obligated to protect his "endangered damsel" make him a hero to love.

The beleaguered Miss Jericho shows herself to be so slouch in the heroine department. She is a woman who has everything to lose, and is still willing to trust her heart, body, and soul in the hands of another.
She is also just as much of an alpha personality as Chayot, and is his twin flame in heart, head, and bed.

Speaking of bed. The sex scenes in this read are hot, hot, HOT! Chayot is a god among men, and this is where his inner alpha is really allowed to run free.
This is also where we see Aslyn truly work her feminine magic, breaking down the walls that Chay has so carefully constructed around himself.

Not to be out shown by other facets of this story; the fast paced, ever evolving, thriller based plot, keeps readers on the edge of their proverbial seats the whole way through.
One is never quite sure where the next threat is coming from, or who will be targeted.
This is definitely a pray for the best, but expect the OMG! WTF? type of tale.

*Reviewer's Note*
This is book 4 in its series. It may be read as part of its intended series or as a stand alone.