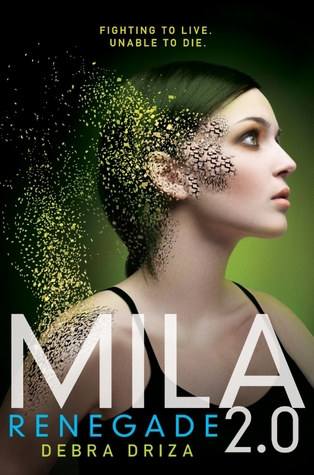 Title: MILA 2.0 Renegade
Author: Debra Driza
Format: ERC
Length: 448 pages
Publisher: Katherine Tegan Books
Rating: 4 Stars
There is no one left for Mila to trust. Except for a boy she barely knows.

But Hunter has no idea who—and what—Mila really is. She can't bear to reveal her secret, even though he's unwittingly joined her search for Richard Grady, a man who may know more details of Mila's complicated past.

Yet the road to the truth is more dangerous than ever. With General Holland and the Vita Obscura scouring the earth for her whereabouts, Mila must rely on her newfound android abilities to protect herself and Hunter from imminent harm. Still, embracing her identity as a machine leads her to question the state of her humanity—as well as Hunter's real motives.

Perfect for fans of I Am Number Four and Divergent, this action-packed and heart-wrenching second installment of MILA 2.0 will leave readers breathlessly awaiting the series conclusion. -Goodreads
My Thoughts
The second round of the MILA saga is proving to be just as engaging as the first, but not for all of the reasons that one would assume.
The Hunter Dilima
While the love interest between these two was very sweet and acted as a great counter balance for the wild plot twists and action of the first read; the continuation of said romance in the second novel caused MILA to spend an inordinate amount of time gushing about the effect of his smile on her heart rate and such, instead of doing her badass android thing for the first third of the book.
Mercifully, things picked up with the introduction of MILA 3 into the mix, somewhere around the 2/3 mark.
The book really got good when MILA found her father, and learned the history that is but isn't hers.
Confused yet?
Yes?
O.K. Great!
Plot twist in 3...2...1...
This is where things go from bad to Holland.
As in, General Holland.
Or at least his arch nemesis, and leader of the dreaded Vita Obscura.
Which is really just Holland run by a woman with a grudge, smoother tactics, and a Robin Hood complex.

All in all this is a very good second book. Miss Driza went to great lengths to insure that her plot line remained uncluttered and highly unpredictable.