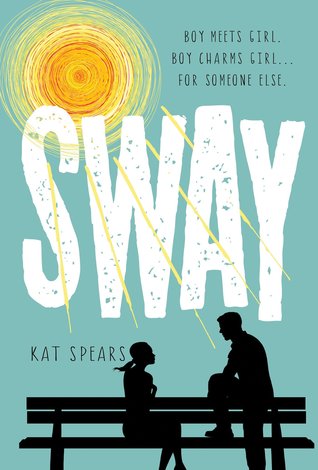 Title: Sway
Author: Kat Spears
Format: ERC
Length: 320 pages
Publisher: St. Martin's Griffin
Rating: 3 Stars
In Kat Spears's hilarious and often poignant debut,g high school senior Jesse Alderman, or "Sway," as he's known, could sell hell to a bishop. He also specializes in getting things people want---term papers, a date with the prom queen, fake IDs. He has few close friends and he never EVER lets emotions get in the way. For Jesse, life is simply a series of business transactions.

But when Ken Foster, captain of the football team, leading candidate for homecoming king, and all-around jerk, hires Jesse to help himt win the heart of the angelihc Bridget Smalley, Jesse finds himself feeling all sorts of things. While following Bridget and learning the intimate details of her life, he falls helplessly in love for the very first time. He also finds himself in an accidental friendship with Bridget's belligerent and self-pitying younger brother who has cerebral palsy. Suddenly, Jesse is visiting old folks at a nursing home in order to run into Bridget, and offering his time to help the less fortunate, all the while developing a bond with this young man who idolizes him. Could the tin man really have a heart after all?

A Cyrano de Bergerac story with a modern twist, Sway is told from Jesse's point of view with unapologetic truth and biting humor, his observations about the world around him untempered by empathy or compassion---until Bridget's presence in his life forces him to confront his quiet devastation over a life-changing event a year earlier and maybe, just maybe, feel something again.
-Goodreads
My Thoughts
See Ferris Bulluer...
Jesse Alderman seems to have it all, and if not...he knows who to ask, where to buy, or who to bribe to get whatever it is that one of the myriad of people on his ever expanding client list needs to make his or her life complete.
The problem?
The magic, or SWAY, that he seems to have over the people, places, and things in his daily existence, simply does NOT carry over into the personal.
With an absentee, musician, father prone to drinking binges, and still reeling from the his mother's suicide, Jesse has taken every precaution against letting anyone get close.
Until her...
The thing is, she was never supposed to be on his radar in the first place. Getting to know Bridget Smalley was a simple Intel mission. $200 to get in, get close, and find out what made her tick.
He had no idea that she would breeze past all of his defenses with nothing more lethal than her smile.
She would be it for him. She would change his game forever. If only he could manage to get over...himself.
This is a book that is built, not so much on the strength of its main character, but in the color, quirk, and vibrancy imparted to him through interactions with his supporting cast.
Bridget, Pete, Joey, Mr. D, and others allow the reader to write the role of hero, villain, coward, or victor, onto the blank slate that is Jesse.
The only part of the story that can truly be attributed to him is the tragedy concerning his mother.
This book is Ferris Bulluer with feels.
The plot falls flat in places, but is saved by expressive writing and supporting players.