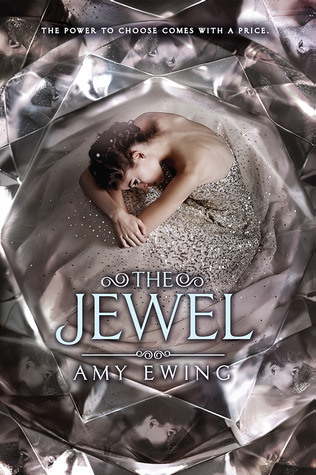 Title: The Jewel
(The Lone City #1)
Author: Amy Ewing
Format: ERC
Length: 358 pages
Publisher: HarperTeen
Rating: 5 Stars
The Jewel means wealth. The Jewel means beauty. The Jewel means royalty. But for girls like Violet, the Jewel means servitude. Not just any kind of servitude. Violet, born and raised in the Marsh, has been trained as a surrogate for the royalty—because in the Jewel the only thing more important than opulence is offspring.

Purchased at the surrogacy auction by the Duchess of the Lake and greeted with a slap to the face, Violet (now known only as #197) quickly learns of the brutal truths that lie beneath the Jewel's glittering facade: the cruelty, backstabbing, and hidden violence that have become the royal way of life.

Violet must accept the ugly realities of her existence... and try to stay alive. But then a forbidden romance erupts between Violet and a handsome gentleman hired as a companion to the Duchess's petulant niece. Though his presence makes life in the Jewel a bit brighter, the consequences of their illicit relationship will cost them both more than they bargained for. -Goodreads
My Thoughts
The Jewel by Amy Ewing is a story that while sharing several elements of its makeup with dystopians that have come before, manages to convey its message in a way that is uniquely its own.
Though a world has been created for this book that is specific to its needs; this is clearly a character driven plot. The background information concerning such elements as then caste system, the arrangement of the provinces, and the tenuous struggle for power among the peers of the ruling class of the Jewel, does more to help readers to understand the rules of the society and the main protagonist's place within it, than to insinuate itself into the makeup of the plot.
Violet Lasting is a superb heroine. She is allowed to start the book as an intelligent, but unassuming character. Thereby keeping the reader on the lookout for moments of brilliance. The full range of her gifts and talents and their importance to the furtherance of her mistress' goals is allowed to become apparent over time. A fact that serves to both keep the plot interesting, and further endear the reader to Violet.
This is also a case where Violet is faced with many dilemmas.
She has the plight of her friend Raven to be concerned about. Her forbidden romance with the royal consort Ash Lockwood. The dangers of her impending pregnancy. The weight of her knowledge of various nefarious activities on the part of her mistress, Duchess of the House of Lake, as well as a very secret 'surprise' operation that Violet stumbles into with a certain very astute 'lady in waiting'.
The Jewel
is a highly readable first in its series. Authoress Ewing is able to achieve a wonderful balance between laying the framework for the series as a whole, and providing her audience with a first offering that entices one onward to books that follow.