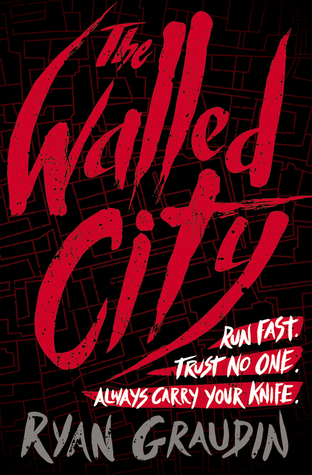 Title: The Walled City
Publisher: Little Brown & Co. BFYR
730. That's how many days I've been trapped.
18. That's how many days I have left to find a way out.

DAI, trying to escape a haunting past, traffics drugs for the most ruthless kingpin in the Walled City. But in order to find the key to his freedom, he needs help from someone with the power to be invisible....

JIN hides under the radar, afraid the wild street gangs will discover her biggest secret: Jin passes as a boy to stay safe. Still, every chance she gets, she searches for her lost sister....

MEI YEE has been trapped in a brothel for the past two years, dreaming of getting out while watching the girls who try fail one by one. She's about to give up, when one day she sees an unexpected face at her window.....

In this innovative and adrenaline-fueled novel, they all come together in a desperate attempt to escape a lawless labyrinth before the clock runs out. -Goodreads
My Thoughts
The Walled City, is a very challenging read, due to the level of violence and the blatant nature of human degradation portrayed within its pages.
Telling the story of three unrelated souls who find their lives intertwined when their individual quests for freedom and justice cause their paths to cross for the good of what turns out to be a universal boon.

The book's direction is not quite clear to the reader at first. Glimpses of each of the three central players lives merely hinting at the state of their existences and the saga that is set to unfold.
The heart-wrenching opening side story of Sing, a young prostitute so hungry for a taste of freedom that she doomed herself to a slow heroine addicted death for just a few moments outside her brothel; while not directly related to the central plot as we later come to know it, does provide a poignant touchstone as her plight is referenced later in the read.
The job of time keeper for this story is left to the 18-day calendar kept by Dai, a young man on a mission to right the wrongs of his past and clear his name and honor.
For most of the story Dai, and his place in the seedy world of Hak Nam is frustratingly enigmatic.
Dai is always just a little too clean, a little too far away, a little wrong.
When he meets a fleet footed street urchin named Jin Lin, and they strike a deal to run drugs for the notorious Brotherhood of the Dragon,
Dai has no idea that the young boy with the fast feet, and the ever present cat has a few secrets of his own.
Jin Lin is on a quest for blood. Not to spill it, but to find it. She braves the streets and gangs of The Walled City to find her sister, Mei Yee.
Mei Yee's story remains unto itself for a great deal of the read because she is confined to the brothel; whereas the other two players in this story are free to roam the streets, both individually and as a unit.
Being confined does little to negate Mei Yee's pivotal role in the story however. In fact, her close proximity to the major villains in the tale, makes her heroic actions in the book's later chapters all the more important.
This is not a dystopic read. Given the fact that The Walled City is patterned after a similar place that bordered Hong Kong; the genre of Historical Fiction is a much better fit.
Authoress Ryan Graudin speaks in a dark and distinctly powerful voice again the evils of human trafficking in this very timely and thought provoking story.
This is a book that I as a reviewer highly recommend to older teens and adults alike, and an experience in which, I am honored to have taken part.