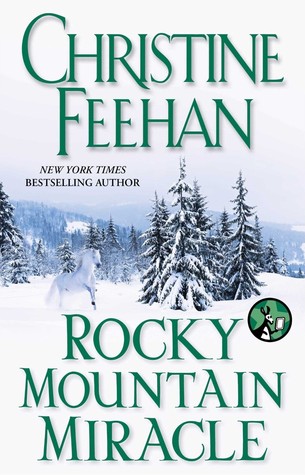 Title: Rocky Mountain Miracle
Auther: Christine Feehan
Format: ERC
Length: 177 pages
Publisher: Pocket Star
Rating: 4 Stars

No Christmas will ever be the same after Cole and Maia meet on a snowy western ranch… Find out why in #1 New York Times bestselling author Christine Feehan's romantic holiday e-novella!

When Cole Steele, a womanizer rumored to have killed his father, meets Maia Armstrong, a veterinarian rumored to practice magic, the sizzling romance could melt all the snow on his Wyoming ranch. And when an injured horse brings them together, Cole can't help but believe that Maia casts spells on animals—and men. What else could explain the burning passion he feels for her and the thawing of his heart just in time for Christmas? -Goodreads



My Thoughts

This is a story that is made by Jase and Maia. Cole is basically your misunderstood, broody, and very rich hunk hiding a very wounded "golden heart".
Maia, on the other hand, is a woman with a wonderful gift. The ability to communicate with animals.
Young Jase, is also a very empathic character in hi own right.
On to the story...
The story starts off a little rough.
There is a bit of "me Tarzan...you Jane" type possessive insta-love going on with Cole...ugh!
But not to worry.
Nefarious happenings at the farm involving Jase's favorite horse, soon divert attentions away from Cole's borderline stalking and back to the drama at hand.
Things really start to pick up plot-wise when Maia finds herself snowed in at the ranch, and as such, a front row spectator to the behind the scenes pain of the Steele brothers.
More is revealed to her by Jase's beloved horse and hearts (both Maia's and those of readers melt)
There is also a mystery afoot concerning the horse's injuries and other strange and dangerous happenings around the ranch.
This is a wonderful story that blooms before readers' eyes.
The characters are well rounded and they develop and grow more detailed as the story progresses.
The thing that makes the story however, are the unexpected twists in the plot.
This is a wonderful Christmas read that is sure to warm your heart.