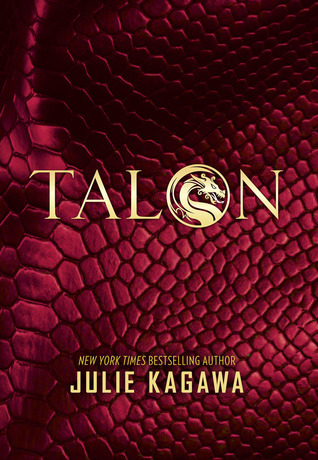 Title:
Talon
Series: Talon #1
Author: Julie Kagawa
Format: Audiobook
Length: 12hrs. 32mins
Publisher: Blackstone Audio
Rating: 3.5 Stars
Long ago, dragons were hunted to near extinction by the Order of St. George, a legendary society of dragon slayers. Hiding in human form and growing their numbers in secret, the dragons of Talon have become strong and cunning, and they're positioned to take over the world with humans none the wiser.

Ember and Dante Hill are the only sister and brother known to dragonkind. Trained to infiltrate society, Ember wants to live the teen experience and enjoy a summer of freedom before taking her destined place in Talon. But destiny is a matter of perspective, and a rogue dragon will soon challenge everything Ember has been taught. As Ember struggles to accept her future, she and her brother are hunted by the Order of St. George.

Soldier Garret Xavier Sebastian has a mission to seek and destroy all dragons, and Talon's newest recruits in particular. But he cannot kill unless he is certain he has found his prey: and nothing is certain about Ember Hill. Faced with Ember's bravery, confidence and all-too-human desires, Garret begins to question everything that the Order has ingrained in him: and what he might be willing to give up to find the truth about dragons.
My Thoughts
A secret society of shape shifting dragons versus the age old dragon slaying knights of The Order of St. George!
Written by Julie Kagawa and served up as a dish of YA goodness!
OMG...what's not to love!
Well... let's see.
First there is the fact that young dragons Ember and Dante Hill were told to assimilate into the sun loving, carefree, and at times nauseatingly frivolous teen scene of southern California.
Not become so much a part of said scene that the characters had to remind readers and themselves that they were in fact something other than human.
Let's also pencil in the fact that love interest number 1, Garret Sebastian just happens to be the one member of The Order of St. George that leading lady, and DRAGON, Ember Hill just can't seem to live without.
But wait...
Doesn't the fact that he has sworn to kill all of dragonkind mean that she can't live with him either?
Just asking?
Then there is the problem of love interest number 2, or as I like to call him, 'the guy with all the answers.'
This is the guy who, if the world were perfect, would be a perfect match for Ember. The one who you want to bodily throw at her ever time she starts to pine incessantly for boy number 1.
After all he is a dragon.
He knows all the secrets that Talon is hiding.
He is HAWT!
Oh yeah...did I mention that he is a blue dragon to her red and that his dragon form calls to hers.
Good old mister knight of St. George not sounding so HAWT right now huh?
Ok...ok...enough of that.
There were quite a few very likable things about this read.
The first of which being the lore snd mystique of the dragons.
When Julie writes about a thing, she really puts a great deal of care into her details, and Talon certainly offers no exception to this rule.
The more that you read about the dragons in their true forms, their training both with Talon, and as rogues, the lives that they lead, and the choices that they face, the more enchanted you become with the story.
You may even come to prefer their dragon state to their human one. (I did!)
The love triangle.
Ok...this is one of those love hate situations. While the options for Ember's little boy toy fest are a bit OBVIOUS, the ways that Julie handles that situations that it creates are great.
No one writes piny, angst ridden love like Julie!
The ENDING!!!!!
OMG!!!!!
Talk about your 'so good that I sat there with my mouth open, I can't believe that I just read that, WTF? moments.'
And no....
I am not going to pick this moment in my review to get all spoilery!
In short, the best way to sum up this book is to say the following:
This is a very good start to a promising series.
There are a few problems, mostly in the first half of the book, that while annoying are not insurmountable.
The awesome ending more than makes up for those afore mentioned annoyances.
This is a book 1 that primes the reader for the awesomeness that is promised in book 2.
Narration Review
The narration of this book is one that wears one one's nerves after a while.
The narrators sound much too old for the characters that they portray.
Thankfully, they still manage to let the story shine through.