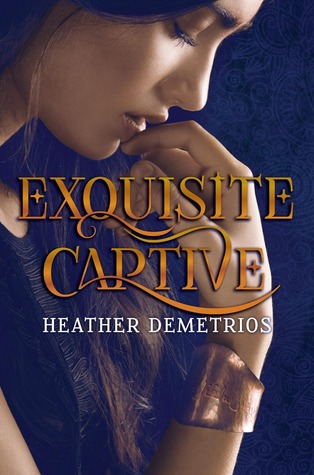 Title: Exquisite Captive
(The Dark Caravan Cycle #1)
Author: Heather Demetrios
Format: ERC
Length: 480 pages
Publication Date: October 7th, 2014
Publisher: Balzer & Bray
Rating: 3.5 Stars
Forced to obey her master.
Compelled to help her enemy.
Determined to free herself.
Nalia is a jinni of tremendous ancient power, the only survivor of a coup that killed nearly everyone she loved. Stuffed into a bottle and sold by a slave trader, she's now in hiding on the dark caravan, the lucrative jinni slave trade between Arjinna and Earth, where jinn are forced to grant wishes and obey their human masters' every command. She'd give almost anything to be free of the golden shackles that bind her to Malek, her handsome, cruel master, and his lavish Hollywood lifestyle.

Enter Raif, the enigmatic leader of Arjinna's revolution and Nalia's sworn enemy. He promises to free Nalia from her master so that she can return to her ravaged homeland and free her imprisoned brother—all for an unbearably high price. Nalia's not sure she can trust him, but Raif's her only hope of escape. With her enemies on the hunt, Earth has become more perilous than ever for Nalia. There's just one catch: for Raif's unbinding magic to work, Nalia must gain possession of her bottle…and convince the dangerously persuasive Malek that she truly loves him. Battling a dark past and harboring a terrible secret, Nalia soon realizes her freedom may come at a price too terrible to pay: but how far is she willing to go for it?

Inspired by Arabian Nights, EXQUISITE CAPTIVE brings to life a deliciously seductive world where a wish can be a curse and shadows are sometimes safer than the light. -Goodreads
My Thoughts
This novel is a very difficult one to review.
The reason for this being that while this work is technically flawless; the inconsistencies in character motive and interaction are serious enough to tarnish the novel's finer points.
The world crafted here is a seamless blend of modern-day Earth, and a feudalistic, caste based society of Arjinna.
The now war torn world of Arjinna is the home of female protagonist Nalia. She, the last of the ruling class of powerful jinn, now finds herself a slave to a half human master, stranded on Earth, and hunted by a cannibalistic assassin.
Though most of the book's setting is on Earth, the authenticity of the jinn's history is maintained through the constant interweaving of native words and phrases into the story. There are also constant
references to the gods and castes of Arjinna,

The novel's decline doesn't begin in earnest until readers become acquainted with Nalia, and come to learn the intricacies of her predicament.
You see, even though Nalia is a brilliant and powerful jinn; she is often made to appear weak, trapped, and vapid.
Adding to her sad state of affairs, is the fact that in an attempt to create a love triangle, the book's author attempted to turn her master into her boyfriend; claiming other motives for this rather transparent plot twist.
Given the importance of other more dire aspects of this read, the trivial vacillation that takes place as a result of the romantic debacle is infuriating.

The long and the short of it is that this novel suffers from a case of 'throw everything into the pot and see what floats'.
Given the fact that this is the first book in a series; there was clearly room for at least a third of this first story to carry over into book 2.