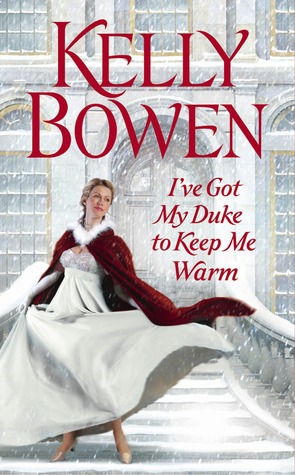 Title: I've Got My Duke To Keep Me Warm
(The Lords of Worth #1)
Author: Kelly Bowen
Format: ERC
Length: 416 pages
Date of Publication: December16th, 2014
Publisher: Grand Central/Forever
Rating: 5 Stars
Where Secrets Smolder...

Calm. Cool. Collected. Gisele Whitby has perfected the art of illusion—her survival, after all, has depended upon it. Years ago, to escape an abusive husband, Gisele "disappeared." Now she must risk revealing her new identity to save another innocent girl from the same fate. But she needs a daring man for her scheme, and the rogue in question shows a remarkable talent . . . for shattering Gisele's carefully constructed façade and igniting her deepest desires.

...Passion Ignites.

This isn't the first time Jamie Montcrief has awakened naked and confused from a night of drinking. It is, however, the first time a stunningly beautiful woman offers him payment afterward. Gisele has a business proposition for him, a mission involving cunning thievery and a brazen rescue. How can he say no to a plot this dangerous . . . and a woman this delectable? -Goodreads
My Thoughts
This books starts out much like a jigsaw puzzle fresh out of the box.
You as the reader may have an inkling of where this or that character or plot element may fit, but things don't really begin to clarify until around 6 chapters in.
What one is sure about from the beginning, is that this story is one that is going to be run by one very strong and capable protagonist in the form of Gisele Whitby.
As if having been the wife of the sadistically abusive Adam Levire, Marquess of Valence, was not enough.
The extraordinary measures to which she has had to resort in order to keep herself and her stepdaughter out of her husband's long reaching grasp would have been enough to have sent the average woman running for the safety of the nearest nunnery.
But not Gisele.
She is a woman bound and determined to pay it forward, helping other women to escape abuse as well.
Of course, every great Houdini must have assistants, and Gisele is no different.
For her, these roles are fulfilled by Sebastian and Ian.
Sebastian is a trusted friend and confidant. You would probably refer to him as the guy who knows where all the bodies are buried.
He is always there for the planning of things, and generally gets things done behind the scenes.
He is also quite the dandy, and can be relied upon to add his own brand of snark and humor to any situation.
Ian is supposed to be the charmer and work the front. Meaning that he is to be the eye-candy.
But Ian has decided to fly the coop
Hence Jamie...
The meeting up James is the only time where the plot shows even the slightest hint of a weak spot. This is because things here are a little too serendipitous.
After that hiccup however, things move along swimmingly, as his secrets meet her secrets and readers are made aware of their attraction to each other.
As Gisele's work takes her closer and closer to her past, there is a marked escalation in the intensity of Jamie's and her relationship that starts about mid book and carries readers through book's end.
There are also things that come to light about James, that seem to fix a great deal of what is broken in him.
The best part of this book by far, has to be it's end. the spectacular way in which Gisele (with the help of James and Sebastian) comes to deal with her situation is not to be missed.
This book deals with very contemporary topics such as PTSD, spousal abuse, and life after said abuse in a historical setting.
That is a very rare, and in this case a very well done choice.
This book also strays away from the norm by placing more of a premium on the crafting of an engaging storyline than in resting on the laurels of a wind-swept romance.
About Kelly...
http://www.kellybowen.net
Goodreads:
https://www.goodreads.com/author/show/8125223.Kelly_Bowen