I was sorting out my Goodreads shelves the other day;
when I noticed that there were quite a few titles on my
Currently Reading list that despite my best...or not so
best efforts.
Still remain unfinished.
Here is my List
(the first 4)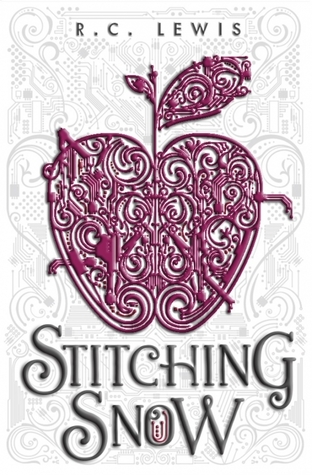 Title: Stitching Snow
Author: R.C. Lewis
Progress: 56%
Princess Snow is missing.

Her home planet is filled with violence and corruption at the hands of King Matthias and his wife as they attempt to punish her captors. The king will stop at nothing to get his beloved daughter back—but that's assuming she wants to return at all.

Essie has grown used to being cold. Temperatures on the planet Thanda are always sub-zero, and she fills her days with coding and repairs for the seven loyal drones that run the local mines.

When a mysterious young man named Dane crash-lands near her home, Essie agrees to help the pilot repair his ship. But soon she realizes that Dane's arrival was far from accidental, and she's pulled into the heart of a war she's risked everything to avoid. With the galaxy's future—and her own—in jeopardy, Essie must choose who to trust in a fiery fight for survival. -Goodreads
This seems to be a very well put together story
it reminds me a lot of The Lunar Chronicles,
and I need to read this book when I can separate the two.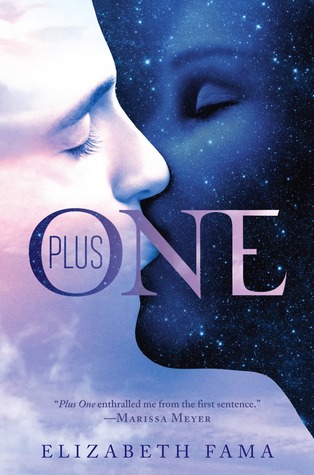 Title: Plus One
Author: Elizabeth Fama
Progress: 57%
It takes guts to deliberately mutilate your hand while operating a blister-pack sealing machine, but all I had going for me was guts.

Sol Le Coeur is a Smudge—a night dweller in an America rigidly divided between people who wake, live, and work during the hours of darkness and those known as Rays who live and work during daylight. Impulsive, passionate, and brave, Sol deliberately injures herself in order to gain admission to a hospital, where she plans to kidnap her newborn niece—a Ray—in order to bring the baby to visit her dying grandfather. By violating the day-night curfew, Sol is committing a serious crime, and when the kidnap attempt goes awry it starts a chain of events that will put Sol in mortal danger, uncover a government conspiracy to manipulate the Smudge population, and throw her together with D'Arcy Benoît, the Ray medical apprentice who first treats her, then helps her outrun the authorities—and with whom she is fated to fall impossibly and irrevocably in love.

Set in a vivid alternate reality and peopled with complex, deeply human characters on both sides of the day-night divide, Plus One is a brilliantly imagined drama of individual liberty and civil rights—and a compelling, rapid-fire romantic adventure story. -Goodreads
My Take On Things
I really like this story, and I have since the begining.
The french dialect took a little getting used to,
but other than that.
I love this book!
Title: Waistcoats and Weaponry
Author: Gail Carriger
Progress: 42%
Class is back in session...
Sophronia continues her second year at finishing school in style--with a steel-bladed fan secreted in the folds of her ball gown, of course. Such a fashionable choice of weapon comes in handy when Sophronia, her best friend Dimity, sweet sootie Soap, and the charming Lord Felix Mersey stowaway on a train to return their classmate Sidheag to her werewolf pack in Scotland. No one suspected what--or who--they would find aboard that suspiciously empty train. Sophronia uncovers a plot that threatens to throw all of London into chaos and she must decide where her loyalties lie, once and for all.


Gather your poison, steel tipped quill, and the rest of your school supplies and join Mademoiselle Geraldine's proper young killing machines in the third rousing installment in the New York Times bestselling Finishing School Series by steampunk author, Gail Carriger.
-Goodreads
My Take On Things
This book has been on my 'must read' list for the longest time. So when it came out
I was more than over the moon to have snagged an early copy.
The problem.
Though I am very happy to see that the characters are growing and progressing,
and as a result, the storylines are becoming much more complex.
The reader in me is a little put off by the pacing of the action.
This book takes a very meandering path through flowery language and lengthy explanation, when sometimes all that is needed is to simply 'dive right in' to the action.
Title: The Fall
Author: Bethany Griffin
Progress: 5%
Madeline Usher is doomed.

She has spent her life fighting fate, and she thought she was succeeding. Until she woke up in a coffin.

Ushers die young. Ushers are cursed. Ushers can never leave their house, a house that haunts and is haunted, a house that almost seems to have a mind of its own. Madeline's life—revealed through short bursts of memory—has hinged around her desperate plan to escape, to save herself and her brother. Her only chance lies in destroying the house.

In the end, can Madeline keep her own sanity and bring the house down? The Fall is a literary psychological thriller, reimagining Edgar Allan Poe's classic The Fall of the House of Usher.
-Goodreads
My Take On Things
Where in the hell is this book going?
O.K., already!
We get that there is something going on with death, the family, and the house.
Can something just happen already?
All that bouncing back and forth with the confusing journal-style writing...
Make something happen.
So many pages, so little...