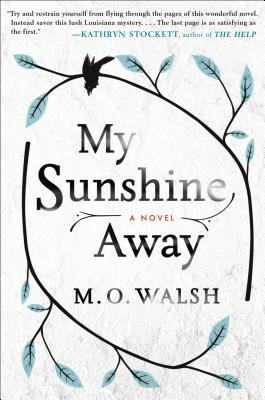 Title: My Sunshine Away
Author: M.O. Walsh
Format: ERC
Length: 320 pages
Expected Date of Publication: February 10th, 2015
Publisher: Amy Einhorn Books
Rating: 3 Stars
It was the summer everything changed.…

My Sunshine Away unfolds in a Baton Rouge neighborhood best known for cookouts on sweltering summer afternoons, cauldrons of spicy crawfish, and passionate football fandom. But in the summer of 1989, when fifteen-year-old Lindy Simpson—free spirit, track star, and belle of the block—experiences a horrible crime late one evening near her home, it becomes apparent that this idyllic stretch of Southern suburbia has a dark side, too.

In My Sunshine Away, M.O. Walsh brilliantly juxtaposes the enchantment of a charmed childhood with the gripping story of a violent crime, unraveling families, and consuming adolescent love. Acutely wise and deeply honest, it is an astonishing and page-turning debut about the meaning of family, the power of memory, and our ability to forgive. -Goodreads
My Thoughts
My Sunshine Away
, though centered around the rape of then 15-year old Lindy Simpson, in the summer of 1989, really serves to relate to readers how that one vile violation of trust changes the way that the book's teenaged narrator comes to view himself, Lindy, his community, and the world.
Told in the voice of a one time suspect, die-hard Lindy fan, and forever nameless hormonally driven young boy. This book is written with the trademark Southern flare for the dramatic. As well as a looping plot line, which takes the long route to a short story.
Care must be taken to remember that though the majority of this book is told from the perspective of a teen; this book is not YA, but rather the flashback styled recounting of an adult.
Although as with any great YA novel, there is an inordinate amount of time spent by the narrator making seemingly unrelated incidents about himself. (This also happens to be a major failing in the plot.) Tirelessly repeated in pages upon pages of, "This happened or didn't happen to me...and this is how it may or may not relate to Lindy."
Pages upon pages go on this way!
But I digress.
Thankfully, the author does see fit to allow the story to wander into other backyards. It is here that we find tales of other interesting characters and happenings, that though loosely related to both the narrator and Lindy, act as a buffer to the laser-like precision with which the narrator defines their relationship.
The biggest disappointment of the read however, lies in the fact that as the story unfolds, readers are left to come to terms with the fact that every dirty little secret, mistake, or problem that our young narrator uncovers in his quest to bungle his way self-deprecatingly into adulthood, is allowed to go unresolved. Dulled by time, but not resolved.
In short, this book is a 320 page homage to the Southern belief that, "If you leave your skeletons buried long enough...even you'll forget where you put them."
Though certain plot elements and aspects of character development do prove problematic to the story.
It must be said that the writing and descriptive nature of the stories themselves is very engaging.
This is not a book for readers who want a read with a clear direction.
If however, you are a person who enjoys nothing better than a day spent wiling away the hours on the porch of the town gossip. This is the book for you.
Reviewer's Note: I was given this access to this title through the First To Read Program hosted by Penguin Books.
All opinions expressed are my own, and I was
in no way compensated for my review.
About M.O. Walsh
M.O. Walsh was born and raised in Baton Rouge, Louisiana. His stories and essays have appeared in publications such as The New York Times, The Southern Review, American Short Fiction, Epoch, and Greensboro Review. His short stories have also been anthologized in Best New
American Voices
, Bar Stories, Best of the Net and Louisiana in Words. He is a graduate of the Ole Miss MFA program and

currently lives in New Orleans, LA, where he is the Director of

the
Creative Writing Workshop
at The University of New Orleans.
He also

directs the

The Yokshop Writers Conference

in Oxford, MS.

You can follow him on
Facebook
.