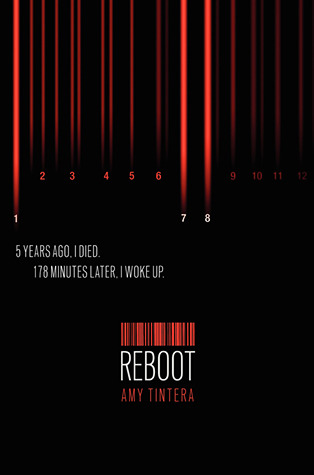 Title: Reboot
(Reboot #1)
Author: Amy Tintera
Format: Audio/ERC
Length: 365 pages
Publication Date: May 7th, 2013
Publisher: Harper Teen
Rating: 2 Stars
Five years ago, Wren Connolly was shot three times in the chest. After 178 minutes she came back as a Reboot: stronger, faster, able to heal, and less emotional. The longer Reboots are dead, the less human they are when they return. Wren 178 is the deadliest Reboot in the Republic of Texas. Now seventeen years old, she serves as a soldier for HARC (Human Advancement and Repopulation Corporation).

Wren's favorite part of the job is training new Reboots, but her latest newbie is the worst she's ever seen. As a 22, Callum Reyes is practically human. His reflexes are too slow, he's always asking questions, and his ever-present smile is freaking her out. Yet there's something about him she can't ignore. When Callum refuses to follow an order, Wren is given one last chance to get him in line—or she'll have to eliminate him. Wren has never disobeyed before and knows if she does, she'll be eliminated, too. But she has also never felt as alive as she does around Callum. -Goodreads
My Thoughts
Reboot is...in a word, disappointing.
It's premise is basically, "I'm a badassed killing machine...UNTIL...I meet a boy, fall in love, and discover my humanity."
What I want to know is...
Why?
Why is it that Wren, who is so tough in the beginning of this read that readers can't even be sure that she is indeed a girl, turns to mush when she meets the imperfect and almost human, but not quite...Callum. (I will delve into the almost human comment just a little later.)
Anyway. It seems that all he has to do is smile at her, and she is over the moon. Or that's what she keeps repeating with more and more tedious rapidity, as time and the book progress. Oh and the kissing. We know that there simply MUST be kissing.
This is not to say that Callum doesn't have his finer points. He is both a leading man, and a love
interest after all. In as much as one can be a love interest to a reanimated killing machine that has recently discovered her heart.
The confusing thing about their relationship however, has to be the way that Callum goes from the ranking of annoyingly precocious child to 'the greatest thing since sliced bread' in lightening-fast speed.
Really?
As for the "almost human" comment from earlier.
It seems that being completely human makes one a target for destruction. While being almost human...well, that makes you eligible for 'boyfriend of the year'.
Really, really?
Silver lining time starts right about...here!
There are some great action scenes to be had, and the 'saving the prince' plot twist towards the end of the book is when we get to see Wren do her 'Superwoman thing'. It provides perfect 'aweeeee moment' fare for those who like the "I can't lose you, I just found myself because of you" thing.
The story found here is not badly written, or badly executed. It is just rather predictable. Here's hoping for better from book 2.
About Amy
Hi! I'm Amy Tintera, and I write novels for young adults. I grew up in Austin, Texas and graduated from Texas A&M University with a degree in journalism. After receiving a masters in film at Emerson College I moved to Los Angeles, where I promptly discovered I didn't enjoy working in the film industry, and went back to my first love, writing.
REBOOT and REBEL are published by HarperCollins/HarperTeen. Film rights have been optioned by Fox, and the books have sold in ten countries. I am represented by Emmanuelle Morgen at
Stonesong
.