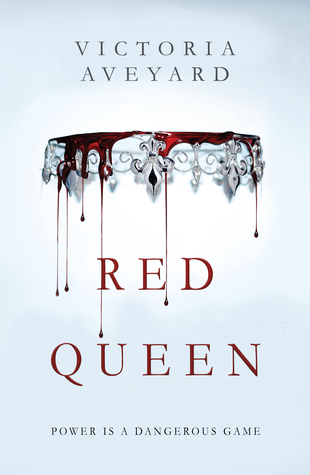 Title: Red Queen
Author: Victoria Aveyard
Format: ERC
Length: 320 pages
Genre: YA/Fantasy/Dystopian
Date of Publication: February 10th, 2015
Publisher: HarperTEEN
Rating: 5 Stars
The poverty stricken Reds are commoners, living under the rule of the Silvers, elite warriors with god-like powers.

To Mare Barrow, a 17-year-old Red girl from The Stilts, it looks like nothing will ever change.

Mare finds herself working in the Silver Palace, at the center of
those she hates the most. She quickly discovers that, despite her red blood, she possesses a deadly power of her own. One that threatens to destroy Silver control.

But power is a dangerous game. And in this world divided by blood, who will win? -Goodreads
My Thoughts
There are so many things that are right about this book that it is hard to know where to begin.
With that statement in mind...let's start at the beginning.
Shall we?
This book drops readers into the thick of things with lead protagonist Mare Barrow. A Red, living in the impoverished Stilts, and awaiting conscription into a bloody war that has taken several members of her family into its service.
With her prospects for gainful employment severely limited by both her status as a Red and her lack of a marketable skill. Mare has had to resort to professional pickpocketing in order to make ends meet. A profession which, as one might imagine, has nor exactly made her the family darling.
When a chance to leave the Stilts for not only Mare, but her best friend Kilorn presents itself, she is determined to make it happen.
At any cost.
What Mare has no way of knowing however is just how high that cost will be.
Or that it is she who will ultimately pay.
IN BLOOD!
This book is paced at lightening speed. Readers go from meeting Mare on the streets of The Stilts to the discovery of her gifts, and her rise to the rank of Lady Mareena Titanos, in the span of about 4 chapters.
If this were any other read, there would be concerns about this. In this case however, there is no need to fear lack in any area. In fact, going right into the heart of the plot so early in the story allows room for expansion and detail to occur naturally throughout the story's course.
And expand it does.
This story quickly morphs from Oliver Twist to A Game of Thrones, as a very weary Mare tries to hold her own while dealing with life at court, the discovery that a fellow street urchin and friend is none other than heir to the throne, Prince Cal, the never-ending scrutiny and scheming of Queen Elana, learning to control her powers, and her betrothal to prince #2, Maven.
Oh and there is also all the hate coming at her from all the other princesses that she beat out for royal 'easy street'.
Believe it or not dear readers, those are just a few of the issues facing poor Mare as she journeys further into the madness of secrets and lies that is the Silver Court.
This is a book that is built on the plot twist. Nothing and no one in this book is ever who or what he, she, or it seems. It is for this reason that readers of this book spend most of their time on the edge of their proverbial seats. Waiting for the WTF!
With everything else that is going on in Mare's life. It is very hard to believe that she has time for a love triangle. But wonders never cease...It prince 1 versus prince 2...sorta!
You want me to explain right?
Nope!
Sorry, you're just gonna have to read that one.
O.K. Enough of that!
This is a book that has a plot that is so entangled with the thoughts and actions of its characters, that it is not easy for me to review it without spoilers.
This is a definite favorite, and a read to own in this book buying season.
About Victoria