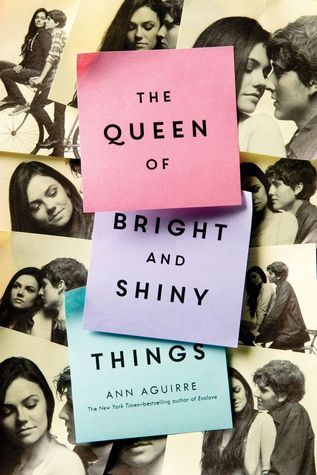 Title: The Queen of Bright and Shiny Things
Author: Anne Aguirre
Format: ERC
Length: 328 pages
Expected Publication Date: April 7th, 2015
Publisher: Feiwel & Friends
Rating: 5 Stars
Buy The Book:
*
iTunes
**
Kobo
**
Books-a-Million
**
Powell's
**
IndieBound
Sage Czinski is trying really hard to be perfect. If she manages it, people won't peer beyond the surface, or ask hard questions about her past. She's learned to substitute causes for relationships, and it's working just fine… until Shane Cavendish strolls into her math class. He's a little antisocial, a lot beautiful, and everything she never knew she always wanted.
Shane Cavendish just wants to be left alone to play guitar and work on his music. He's got heartbreak and loneliness in his rearview mirror, and this new school represents his last chance. He doesn't expect to be happy; he only wants to graduate and move on. He never counted on a girl like Sage.
But love doesn't mend all broken things, and sometimes life has to fall apart before it can be put back together again…






I have forty seconds to spare when I burst through the doors of the Curly-Q. Mildred gives me the side-eye, but since I'm not technically late, she just says, "Get your smock on, girl. There's cleaning to be done."

Though it's not strictly legal or sanitary, I'm pretty sure they save the hair for hours. The stylists just sweep it away from the chairs and pile it out of the way. So by the time I arrive, there's a small Sasquatch on the floor. It takes me an hour to get the shop pristine. Customers come and go, mostly walk-in haircuts. Around six, it slows down, and Grace beckons me to the chair.

"When are you gonna let me give you some highlights?" She asks this often.

This time, however, I say, "Tonight, if you have time."

Grace gets excited. "Mildred, get the camera. I'll do it free if you let me take a picture for the Before and After wall."

I eye the wall, not sure I want to be immortalized up there, along with all the 80s hair and prom refugees, but eventually I shrug. "Why not?"

My hair is a dark blond, mousy and forgettable. I mean, it's decent hair, neither straight, nor curly. Left to its own devices, it falls in messy waves. That's why I wear a lot of ponytails and braids. Aunt Gabby has similar problems, only she gets it lightened and highlighted so it looks bright and flirty, and she spends forty-five minutes a day straightening hers, so it's sleek and smooth by the time she goes to the shop. UPS Joe seems to like the results anyway.

&nbs /p;

Grace fastens me into the plastic smock, then snaps a Polaroid. I still don't care that much how I look; I mean, it's so superficial, but a small part of me would like to be prettier, at least maximize what I'm working with. I tell myself this is more of a social experiment, and I can evaluate how people react to the new me. But that's not it.

I'm totally doing this to see if Shane notices. Sometimes I hate being a girl.






My Thoughts
The story told in Anne Aguirre's The Queen of Bright and Shiny Things, is one of two people daring to hope, daring to rebuild, and daring to love.
Life has not been kind to Sage Czinski, but she makes it her business to be as kind as she can everyday. Little do the recipients of the post-it notes, filled with kind and uplifting words know, that the messages so lovingly penned for them, help to stave off the tendrils of an all encompassing darkness that stands in constant vigil over their writer.
Shane Cavandish doesn't have much to say, isn't the best dressed, and doesn't seem to care whether or not anyone really sees him.
Until he sees her.
She sees him.
And...
They learn to really see each other.
The Queen of Bright and Shiny Things is proof that hope really does spring eternal. It sometimes however, needs both action to set it in motion, and love to give it direction.
Both Sage and Shane are doing all they can to overcome the darkness, pain, and loss of their respective pasts.
What they are not doing however, is living. They use the distance created by causes and obsequiousness; in Sage's case. Or a general ability to fade into the woodwork, as it were; in the case of Shane.
With both waiting in white knuckled fear and anticipation of someone...anyone reaching out to truly know and accept them for all that they are.
Authoress Anne Aquirre manages to delve deep into the heart of very specific pain, and address the deepest fear of every teen. The fear of never finding people and places to whom one can truly belong. Though Sage and Shane do feature as the most prominent players in the expression of this message. Closer perusal of the story allows one to quickly realize that it is a focus in the lives of each of the supporting characters as well.
Sage and Shane and the love that they find for each other, is one that will make reader's hearts soar, and their eyes tear.
While not the most flamboyant, their romance has an honesty and realism that makes one believe that they will be living their happily ever after long after their book has ended.
Ann

Aguirre

is a New York Times & USA Today bestselling author and RITA winner with a degree in English Literature; before she began writing full time, she was a clown, a clerk, a voice actress, and a savior of stray kittens, not necessarily in that order. She grew up in a yellow house across from a cornfield, but now she lives in sunny Mexico with her husband, children, and various pets. Ann likes books, emo music, action movies, and she writes all kinds of genre fiction for adults and teens, published with Harlequin, Macmillan, and Penguin, among others.
Website
**
Facebook
**
Twitter
**
Tumblr
**
Goodreads
**
Newsletter SignUp
a Rafflecopter giveaway