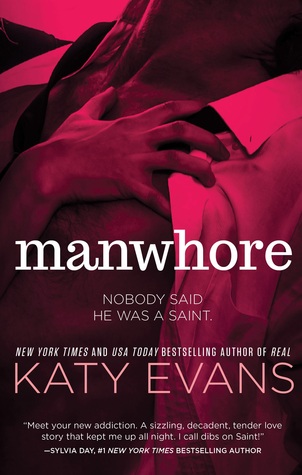 Title: Manwhore
(Manwhore #1)
Author: Katy Evans
Format: ERC
Length: 368 pages
Publisher: Gallery Books
Rating: 2 Stars
Is it possible to expose Chicago's hottest player—without getting played?

This is the story I've been waiting for all my life, and its name is Malcolm Kyle Preston Logan Saint. Don't be fooled by that last name though. There's nothing holy about the man except the hell his parties raise. The hottest entrepreneur Chicago has ever known, he's a man's man with too much money to spend and too many women vying for his attention.

Mysterious. Privileged. Legendary. His entire life he's been surrounded by the press as they dig for tidbits to see if his fairytale life is for real or all mirrors and social media lies. Since he hit the scene, his secrets have been his and his alone to keep. And that's where I come in.

Assigned to investigate Saint and reveal his elusive personality, I'm determined to make him the story that will change my career.

But I never imagined he would change my life. Bit by bit, I start to wonder if I'm the one discovering him...or if he's uncovering m

What happens when the man they call Saint, makes you want to sin?
-Goodreads
My Thoughts
Manwhore has proven quite the disappointment. Just another uber-rich boy playing the "I want it" game with a common girl.
The name may have changed, but Malcolm Kyle Preston Logan Saint, touted as playboy extraordinaire; able to have whatever or whomever he wishes with a mere look; reads all Christian Gray. All of his bad boy
ways

seem to disappear however, with one look at Rachel.
The girl destined to get closer to him than any other. The girl who has the power to reveal the truth about the legend of MANWHORE.
Ok...ok...all drama aside. This is a sweet book, but too close to the 50 Shades plot-line for its own good. Minus the kink that is.
The best part of the story is the "will she or won't she" of the big reveal that Rachel is supposed to do to save her future.
Unfortunately, there just isn't that much to say about this one. A way to pass the time. Something to do. Good for the airport. Slightly better than watching paint dry.
About Katy
Katy Evans grew up with books and book-boyfriends until she found a real sexy boyfriend to love. They married and are now hard at work on their own happily ever after. Katy loves her family and friends, and she also loves reading, walking, baking, and being consumed by her characters until she reaches "The End." Which is, hopefully, only the beginning…
Website
Goodreads
Twitter