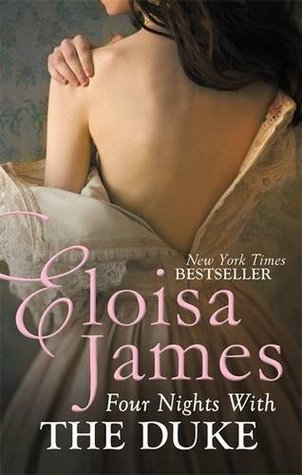 Title: Four Nights With The Duke
(Desperate Duchesses by the Numbers #2)
Author: Eloisa James
Format: ERC
Length: 336 pages
Date of Publication: March 31st, 2015
Publisher: Avon
Rating: 5 Stars
As a young girl, Emilia Gwendolyn Carrington told the annoying future Duke of Pindar that she would marry any man in the world before him—so years later she is horrified to realize that she has nowhere else to turn.

Evander Septimus Brody has his own reasons for agreeing to Mia's audacious proposal, but there's one thing he won't give his inconvenient wife: himself.

Instead, he offers Mia a devil's bargain...he will spend four nights a year with her. Four nights, and nothing more. And those only when she begs for them.

Which Mia will never do.

Now Vander faces the most crucial challenge of his life: he must seduce his own wife in order to win her heart—and no matter what it takes, this is the one battle he can't afford to lose. -Goodreads
My Thoughts
One cannot help but to love what one loves."

In the cases of one Miss Emilia Gwendolyn Carrington and Evander Septimus Brody, Duke of Pindar. The above sentiment has never held more true. For their's is a tale of youthful infatuation, turned to loathing. Of desperation turned criminal. Of necessity becoming love.
Mia Carrington never dreamed that she would someday be forced to eat her words; when as an infuriated teen, she told Evander Brody that she wouldn't marry him "if he were the last man on earth."
But it appears that in the case of poor, put upon, Mia, that time and desperation do strange bedfellows make. It seems that Mia must find a husband, and quickly. Now in her twenties, unmarried, and the guardian to her young disabled nephew, Charlie. She must find a husband in order to insure young Charlie, and his inheritance, doesn't fall into the hands of his unscrupulous uncle.

Enter the "last man on earth".
Evander Septimus Brody, Duke of Pindar has a few issues of his own.
He feels that love is a complication that his life is best without.
So when Mia appears before him, scheme for blackmail in tow. He feels more than justified in his belief that love is all for naught.
But no one ever said anything about attraction.
Four Nights With the Duke
is a complex novel brimming with emotion, wit, charm, and hard won romance. The juxtaposition of the necessity of their union, and the obvious hurdle that their wounded prides present, makes this a story that readers must see to its conclusion.
The characters found here are in a word...fantastic!
Mia is strong, cunning, loyal, loving, and a writer! YUM!
She may be terrified out of her stockings, but she never lets them see her sweat. She faces every challenge set before her with a conqueror's spirit and a unquenchable humor.
As mentioned before, on top of everything else...Mia has made quite a name for herself as an author. Seeing her added trials with said career, only serves to further endear her to those champions of her cause.

Evander is a man haunted by the mistakes of his past. The strange thing about that is, most of the mistakes are not his. They have however, managed to create in him a very closed and fearful person. Said fears and insecurities often make him seem cold and unfeeling.
The list of supporting characters adding flair, spark, and color to this tale is quite lengthy, but honorable mentions include:
Chuffy: Evander's sweet and ever-inebriated uncle.
Charlie: Mia's strong, smart, and very lovable disabled nephew.
Eloisa James spins yet another tale of love and life that once begun, is impossible to end.
Reviewer Note
Though this novel is the 2nd offering in the Desperate Duchesses by the Numbers series, it can be read as a standalone.
About Eloisa