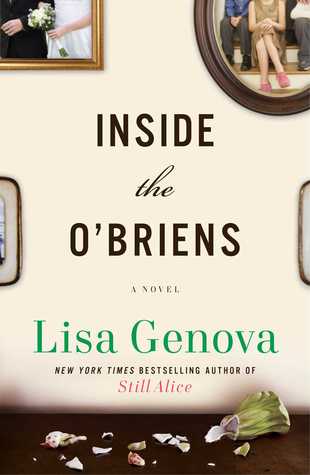 Title: Inside The O'Briens
Author: Lisa Genova
Format: ERC
Length: 352 pages
Expected Date of Publication: April 7th, 2015
Publisher: Gallery Books
Rating: 5 Stars
From award-winning, New York Times bestselling author and neuroscientist Lisa Genova comes a powerful new novel that does for Huntington's Disease what her debut Still Alice did for Alzheimer's.
Joe O'Brien is a forty-four-year-old police officer from the Irish Catholic neighborhood of Charlestown, Massachusetts. A devoted husband, proud father of four children in their twenties, and respected officer, Joe begins experiencing bouts of disorganized thinking, uncharacteristic temper outbursts, and strange, involuntary movements. He initially attributes these episodes to the stress of his job, but as these symptoms worsen, he agrees to see a neurologist and is handed a diagnosis that will change his and his family's lives forever: Huntington's Disease.
Huntington's is a lethal neurodegenerative disease with no treatment and no cure. Each of Joe's four children has a 50 percent chance of inheriting their father's disease, and a simple blood test can reveal their genetic fate. While watching her potential future in her father's escalating symptoms, twenty-one-year-old daughter Katie struggles with the questions this test imposes on her young adult life. Does she want to know? What if she's gene positive? Can she live with the constant anxiety of not knowing?
As Joe's symptoms worsen and he's eventually stripped of his badge and more, Joe struggles to maintain hope and a sense of purpose, while Katie and her siblings must find the courage to either live a life "at risk" or learn their fate.
Praised for writing that "explores the resilience of the human spirit" (The San Francisco Chronicle), Lisa Genova has once again delivered a novel as powerful and unforgettable as the human insights at its core. -Goodreads
My Thoughts
The story of a family struggling to come to terms with the devastating knowledge that their father/ husband, Joe O'Brien, has Huntington's Disease. A progressively debilitating and ultimately fatal neurological disorder.
Narrated by both Joe, and his youngest daughter Katie,
Inside The O'Briens
, puts readers on very intimate terms with both the disease, and the long reaching and life altering effects of Joe's diagnosis for himself and those he loves.
Written in three parts. The story chronicles Joe's life, and by extension, the lives of his family from life before his diagnosis, to well into its symptomatic onset.
Though often hard to read. What this story offers the reader is an unflinchingly real view of the life choices, life changes, and often harsh realities faced by those lives touched by Huntington's.
On a brighter note. This story is also one of profound hope.
Because although the specter of this disease's ramifications looms spectacularly large over thus family. They each, in their own way, vow to live, love, and be more than a diagnosis.
About Lisa