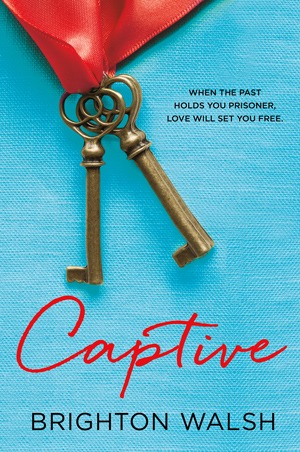 Title: Captive
(Captive #1)
Author: Brighton Walsh
Format: ERC
Length: 288 pages
Publisher: St. Martin's Press
Rating: 4 Stars
He's the most dangerous man she's ever met…and she's falling in love with him.

Madison Frost is desperate to escape her life. Daughter of a prominent businessman, she has everything a girl could ask for. Except for a family who's present in her life, and anyone to talk to outside the four walls of the prison she calls home. Madison dreams of one day leaving her life behind. She never thought being kidnapped is how it would happen.

Now she's being held captive by a man who's as frightening as he is sinfully gorgeous. Enormous, muscular, and filled with secrets, the man they call Ghost is an enigmatic mercenary, and Madison is trapped with him. She doesn't know who hired him or why, but the more time she spends at his mercy, the more she realizes he's not what he seems. Beneath his rough exterior lies an unexpected gentleness and a heart as broken and battered as her own.

But as Madison lets down her walls, Ghost holds tight to his, hiding secrets that could destroy everything.
My Thoughts
This story is one that has everything going for it except...its leading lady.
Madison Frost is a rich and beautiful, but very much ignored young woman. Try as one might however, she never quite pulls off her role as the tragic figure that she is intended to be.
Sadly...she instead paints herself into a rather shallow and self absorbed corner.
Help however is fast in coming, when we meet Miss Frost's very hot, very intense, and very emotionally complex captor/ love interest, Ghost.
Ghost is everything that one could ask for in a sexy, emotionally wounded, 'bad boy with a cause'.
Serving to further gild the enigmatic alpha male lily, are the myriad of puzzles and secrets that we the readers, along with dear Miss. Frost, get to unearth and solve about "just call me Ghost".
The pacing of the book is moderate at its start, but manages to pick up and maintain a very nice momentum as the romance and the action heat up. All things considered...(ahem Miss Frost) This story really does seem to come together very well just before mid-book.
Captive, is a quick and exciting first, for what promises to be a very good series.
WTF Are You Reading?
Would like to thank
St. Martin's Press
and
Netgalley
for
providing a copy of this title in exchange
for an honest review!
About Brighton