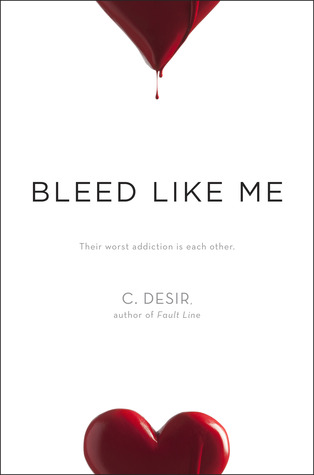 Title: Bleed Like Me
Author: Christa Desir
Format: ERC
Length: 288 pages
Publisher: Simon Pulse
Rating: 5 Stars
From the author of Fault Line comes an edgy and heartbreaking novel about two self-destructive teens in a Sid and Nancy-like romance full of passion, chaos, and dyed hair.

Seventeen-year-old Amelia Gannon (just "Gannon" to her friends) is invisible to almost everyone in her life. To her parents, to her teachers-even her best friend, who is more interested in bumming cigarettes than bonding. Some days the only way Gannon knows she is real is by carving bloody lines into the flesh of her stomach.

Then she meets Michael Brooks, and for the first time, she feels like she is being seen to the core of her being. Obnoxious, controlling, damaged, and addictive, he inserts himself into her life until all her scars are exposed. Each moment together is a passionate, painful relief.

But as the relationship deepens, Gannon starts to feel as if she's standing at the foot of a dam about to burst. She's given up everything and everyone in her life for him, but somehow nothing is enough for Brooks-until he poses the ultimate test.

Bleed Like Me is a piercing, intimate portrayal of the danger of a love so obsessive it becomes its own biggest threat.
My Thoughts
If you are a fan of Intervention, Hoarders...Buried Alive, or any other form of twisted reality TV goodness that deals with what people resort to when in the throws of obsession, or if you are a person with a fetish for watching train wrecks in slow motion. This this the book for you!
Amelia "you don't see me" Gannon,is the perfect fuse for Michael Brooks' particular brand of "I need someone to love me" emotional and psychological TNT.
These are two characters that readers know, from the outset, can not possibly be good for each other.
However, given the fact that they not only manage to find each other, but that they also seem to find in each other, some semblance of comfort; one can't help hoping or the best, but...
In much the same way that one does when your brother comes home from a weekend in Vegas, and announces that he has just married Trixie, a stripper, who will be moving down next week. You know that things WILL NOT END WELL.
The guilty pleasure of this read is seeing just how bad things are destined to become before DEFCON 1 is reached.
Oh...Amelia
Here we have a character who, though she has problems, has still managed to maintain an education, a job, friends, and a clean criminal record. Her only two issues being the stress of her unruly adopted brothers on the family, and her social awkwardness. Hence...Amelia's gateway to cutting and a codependent, hot mess of a relationship.
Michael...Demon or Angel
In Michael, we have a person who is just trying to find someone and somewhere to belong. He is about to age out of the foster care system, was abused as a child, and is just doing what he has to.
He sees Gannon as his one chance to be that all important "knight in shining armor", and for a while, he is.
But...
Obsession, recklessness, and drugs, can and do destroy everything that is good about what they have, and what he is trying to do.
This is a story that is built on angst, dysfunction, love, pain, and what can happen when the hopeful naivety of youth is turned in upon itself.
There are more than a few WTF's and OMG's to be had here, and the ending is....
YOU'LL JUST HAVE TO READ IT!