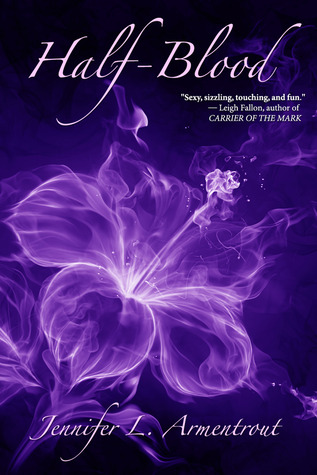 Title: Half-Blood
(Covenant #1)
Author: Jennifer L. Armentrout
Format: Kindle
Length: 281 pages
Publisher: Spencer Hill Press
Rating: 5 Stars
The Hematoi descend from the unions of gods and mortals, and the children of two Hematoi pure bloods have godlike powers. Children of Hematoi and mortals--well, not so much. Half-bloods only have two options: become trained Sentinels who hunt and kill daimons or become servants in the homes of the pures.
Seventeen-year-old Alexandria would rather risk her life fighting than waste it scrubbing toilets, but she may end up slumming it anyway. There are several rules that students at the Covenant must follow.
Alex has problems with them all, but especially rule #1:Relationships between pures and halfs are forbidden. Unfortunately, she's crushing hard on the totally hot pure-blood Aiden. But falling for Aiden isn't her biggest problem--staying alive long enough to graduate the Covenant and become a Sentinel is.
If she fails in her duty, she faces a future worse than death or slavery: being turned into a daimon, and being hunted by Aiden. And that would kind of suck.
My Thoughts
A lot can happen in three years, and for Alexandria, the three years that she has spent living among mortals could mean a life of drudgery and servitude.
Unless...
She can prove to the power that be at The Covenant, that she is...that she can be...enough.
This world of powers, daimons, pures, halfs, love, loss, and fighting! Lots of fighting!
Alex is a fighter, and as the story progresses, you come to realize that she has more to fight for than most.
After seeing her mother killed at the hands of a daimon, The Covenant and training is all that she has.
Or is it?
Aiden, the sexy, pure-blood, Sentinel who has agreed to train her may have a thing or two to say about that.
As long as they don't get caught...that is!
This book is as good as...
All the drama, plots, lies, and forbidden love!
There is so much to love about this book, but the intensity of the forbidden love between Aiden and Alex, is by far the ultimate reason that this book is book-lover crack.
Well, that and Alex's Sookie Stackhouse-esque knack for life threatening situations.
But...
These are just a few of the reasons that this book, and this series will be a reread for life.
About Jennifer