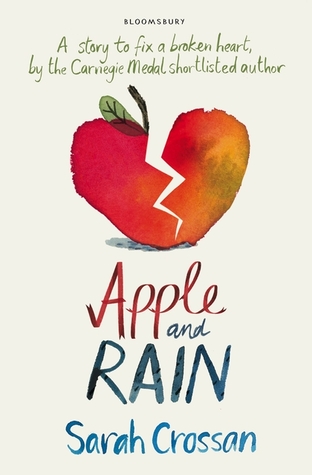 Title: Apple And Rain
Author: Sarah Crossan
Format: ERC
Length: 330 pages
Publisher: Bloomsbury Children's Publishing
Date of Publication: May 12th, 2015
Rating: 4 Stars
When Apple's mother returns after eleven years away, Apple feels whole again. But just like the stormy Christmas Eve when she left, her mother's homecoming is bittersweet. It's only when Apple meets someone more lost than she is that she begins to see things as they really are.

A story about sad endings.
A story about happy beginnings.
A story to make you realize who is special. -Goodreads
My Thoughts
Though this read is classified as YA, it reads very middle grade.
Apple, the book's young protagonist, is a highly sheltered 8th grader who has been raised by her grandmother for the last eleven years.
When her flighty and free-spirited, actress wannabe, mother suddenly re-enters her life, a new younger sister for Apple in tow. The ripple-free pond that has been Apple's life suddenly morphs into a storm-tossed sea of new experiences, disappointments, lessons, loves, losses, and possibilities.
For the most part, this read deals with the "be careful what you wish for" aspect of longing for an absentee parent. Apple has never gotten over seeing her mother leave on the fateful Christmas that changed her life. Years of no contact have only served to elevate the pedestal on which she has managed to place her wayward mother. While the steady hand of her Nana, serves as an all too strict reminder of what not having her mother in her life seems to be costing her.
When Apple's wish of her mother's return is suddenly granted; she finds herself on the receiving end of far more than she ever bargained for.
And...far more it seems, than her thirteen years have prepared her to deal with.
Just a few highlights:
A emotionally damaged younger sister, who has formed an unhealthy attachment to her doll, Jenny.
A mother who would rather throw parties, stay away from home for days, and drink alcohol, than take care of her children
Self same mother seems quite content to leave Apple to care for herself and her sister at any given time.
A father who has moved on to a new wife and family, and only chooses to look back on holidays and when there is a crisis too big to ignore.
Apple and Rain is a sad look at what happens when two little girls are forced, through no fault of their own, to grow up too soon. To learn lessons best left for later. To become their own heroes.
Parental neglect is a silent scourge wreaking havoc in the lives of millions of children everyday.
Adults find it so easy to excuse the inexcusable with justifications like, "Your mother just needs some time to get herself together."
Or...
"Your father just can't handle a family right now."
No one ever asks the children what they can handle. No justification is ever given for their abandonment issues, lack of trust, and fear.
Ap
ple and Rain is a story that manages to do just that. With a quiet realism that gets to the heart of the matter in a voice and an emotional range tailor-made for today's young teen.
About Sarah