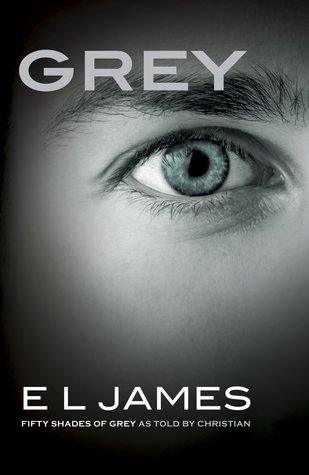 Title: Grey
(Fifty Shades #4)
Author: E. L. James
Format: Audiobook
Length: 18hrs. 46mins.
Narrator: Zachary Webber
Source: Audible
Rating: 5 Stars
See the world of Fifty Shades of Grey anew through the eyes of Christian Grey.

In Christian's own words, and through his thoughts, reflections, and dreams, E L James offers a fresh perspective on the love story that has enthralled millions of readers around the world.

Christian Grey exercises control in all things; his world is neat, disciplined, and utterly empty—until the day that Anastasia Steele falls into his office, in a tangle of shapely limbs and tumbling brown hair. He tries to forget her, but instead is swept up in a storm of emotion he cannot comprehend and cannot resist. Unlike any woman he has known before, shy, unworldly Ana seems to see right through him—past the business prodigy and the penthouse lifestyle to Christian's cold, wounded heart.

Will being with Ana dispel the horrors of his childhood that haunt Christian every night? Or will his dark sexual desires, his compulsion to control, and the self-loathing that fills his soul drive this girl away and destroy the fragile hope she offers him?
**This book is intended for mature audiences.**
My Thoughts
Disclaimer: I am NOT, nor have I ever been a fan of the Fifty Shades of Grey franchise in any way!
I have even gone so far as to encourage people NOT to bother reading the series.
A position to which I staunchly adhere, with this singular exception.
Grey, is not pretty, romantic, or made to make maidens mother's line up with their innocent daughters in tow.
What Grey is...
An honest look inside of a broken man. A man craving love. A man desperate to give love, but a man who, due to circumstances beyond his control, has no idea how.
This is the story that those who live for the truth of things want. This is the story that should have been told first.
Because the first three books of the series are told from the POV of a very sheltered, naive,and ignorant young woman, there is a tendency toward vapid romanticism that has nothing at all to do with Christian. This characterization as the romantic hero is on fact, the last thing that Christian wants.
He is a very tortured soul, trying to find his way out of a very dark place.
His key.
BDSM!
You must understand that the BDSM that we will be exploring here is a far cry from the "furry handcuff special" that most people are familiar with.
What we are exposed to via Grey, is a very disciplined and precise practice. An art, that if done wrong, or even with the wrong intent, can have very damaging consequences.
When done right however, BDSM can be a very transcendent experience!
Back to Grey...
Christian is never in control of much during his formative years. Which creates a need for control in all areas of his life, as he ages. This can be seen in all aspects of his life. His work, his aesthetic, his home, his relationships with members of his family.
Being a dom, which is really a form of service. Gives the master or mistress a modicum of control, while allowing them to cater to the needs, wants, and desires of another. Add to this the fact that Christian is a sadist, (one who receives sexual gratification from the pain or humiliation of another.) is the reason that BDSM is such a saving grace for him.
He gets to exorcise his demons in a way that is both non-threatening to his boundaries and that allows him to give and receive affection and care, as per the sub/dom precept.
All of this is of course, thrown out of the proverbial window with the introduction of Anastasia Steele.
She is all sweetness and light.
That unattainable star that Christian wants, but is not allowed to attain.
Only...
She is giving herself to him!
Say what?
And all at once, all of the control that Christian has fought so hard to maintain is shot to hell by LOVE.
The kind of love that is without stain, malice, deceit, or guile, and apparently has no appreciation for the finer points of pain management as a component of bed play.
In short.
The kind of love that puts Christian completely out of his element.
This is an awesome read! I highly recommend it in all forms, but especially on audio!
Narration Review: Zachary Webber has a voice that is just made for the tortured, sensual, sadist that is Christian Grey. His words flow over the reader like the waters of a hot bath. Managing to both soothe and stimulate, with equal acuity. Mr. Webber has a natural raw sexuality that is a very necessary aspect to the characterization of Christian. His female characters are voiced in a very natural and emotional expressive way as well. Mr. Webber shows himself to be a very versatile, and highly skilled master of his craft! BRAVO!