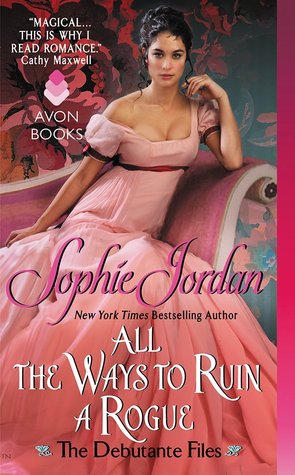 Title: All The Ways To Ruin A Rogue
(The Debutante Files #2)
Author: Sophie Jordan
Format: ERC
Length: 384 pages
Expected Date Of Publication: July 28th, 2015
Publisher: Avon Books
Rating: 4 Stars

Lady Aurelia hasn't always hated Max, Viscount Camden, her brother's best friend. In fact, as a besotted girl, she thrived under his kind attention – sure that he was the most noble and handsome man in the land. Until her young heart discovered what manner of rogue he really was. Now, though she enjoys nothing more than getting on his last nerve, she can't deny Max drives her to distraction—even if she tries to pretend otherwise.
...and a lord who was confounded by a lady.
Max cannot recall a time when Aurelia did not vex him. If she was not his friend's sister, he would stay far away from the infuriating vixen. Unfortunately, they are always thrown together. At parties and family gatherings…she is always there. Infuriating him, tossing punch in his face, driving him mad...until one night, she goes too far and he retaliates in the only way he can: with a kiss that changes everything. Goodreads
My Thoughts
One cannot help loving the sparks that fly between these fated lovers from the opening volley of their first youthful feud.
Though the length and breath of said feud lasts an interminable length of time. (Well into adulthood.) The more that one comes to know about the fiery and passionate temperaments of both Max, and his fistey leading lady, the more one comes to not only expect, but to anticipate their next battle.
This is the couple that fights just to get to the amazing make-up sex that they will have afterward.
The intensity of their battles, coupled with the call to passion that remains so long denied, is in fact a major plot driver.
You just have to know who is going to do that one thing that will push the other to had his or her breaking point.
Lady Aurelia, much to the joy of readers and the chagrin of poor Max, seems to best him at every turn. Whether she is leaving her scandalous satiric cartoons where they might delight and confound the gentry, or besting the beasts at cards in infamous gaming hells; Max knows that in this lady he has in deed met his match.
Adversely, the fact that these two waste so much of the story fighting, seems quite the stupid. Even after they fiiiiiiinaly come to terms with the fact that they must have each other, not only do they still fight, but we also have to sit through pages of Max's 'I want her but I can't need her' complex. (Insert eye roll here.)
Not to worry though...
After much more after marriage drama, Max does redeem himself; to become the wonderful loving man that our brilliant lady more than deserves.
This is a very fast and light read. The pacing is fast in terms of plot, but there is little physicality between Max and Aurelia until well past the story's midpoint.
This is a wonderful look at what happens when there are no losers in the battle for love.

This book is the second in a series. It may however, enjoyed as a stand alone.