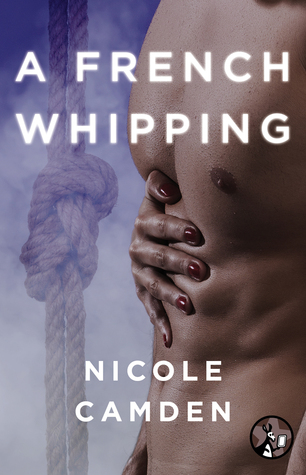 In the second book of the Billionaire Tricksters of Boston series, Nicole Camden explores the alluring worlds of mysterious magicians and ladies whose desires tempt them ever deeper into a world they don't quite understand...

If it weren't for a twist of fate, Nick Cord would have grown up poor in South Boston, a fisherman like his abusive father. Instead he became a software developer and billionaire businessman with his two best friends. Driven, controlled, and disciplined, he prefers to keep his world orderly and well-planned. Unfortunately, he's been in love with Blake Webster for over a decade.

Blake Webster tends to fall for the wrong kind of man. Time and again she's gotten herself involved with men who want to hurt her. When she decides to take control of her life, especially her sex life, there is only one man she trusts completely...her friend Nick.

Unfortunately, one of her exes has returned to Boston, and Nick, for all that he loves her, has trouble dealing with the chaos that follows in her wake. She is the one person with the power to destroy the careful control he's always maintained in an effort to keep from being like his father. -Goodreads
An Interview With Nicole Camden
WTF:
The Billionaire Tricksters series is so different than anything that you have previously done. How did the idea for this wonderful series come about?

Nicole: Well, I was talking to my publisher and she suggested I put my own spin on a billionaire book. It sounded like fun, so I went for it.
WTF:
Your love for BDSM and rope play is quite evident in this series. Will that continue as a main theme for this collection, or will other forms of play be showcased as well?
Nicole: It continues as a theme, with a slightly different focus in each book. Roland, for example, likes sensory deprivation. His book is the final one in the series.
WTF:
The lives of your characters are very realistically written. So much so, that the sensual aspects of their stories often seem to act as a bonus. Do you write one first, and then the other, or do they just come together as you go?
Nicole: Well, thank you. I make an effort to make my characters seem as real as possible, but I just make a general outline and write as I go. Sometimes .
WTF:
Do you write to music? If so, will you share your playlist with us?
Nicole: I do on occasion, especially if I'm just getting ideas down. Sure. My playlist for French Whipping included:
Partition by Beyonce
Corner of Your Heart by Ingrid Michaelson
Pretty in Pink by The Psychadelic Furs
L'amour by Carla Bruni
That Ole Devil Called Love by Billie Holiday
Strip Teaser by Anniela
Take Me to Church by Hozier
Cecilia by Simon and Garfunkel
WTF:
How many books are planned for this series?
Nicole: Three total, though I am also writing a short story
J
WTF: Do you have any writing rituals, pets, foods, drinks that are musts to your process?
Nicole: I'm afraid most of my "musts" were off-limits once I got pregnant. I had to cut back the coffee, wine, and copious amounts of chocolate that were crucial to my process. I also couldn't stay up all night writing. But now that I've had my darling son, I'm working on a new process. So far pumping and writing is awkward, but we're getting there. I'm writing an hour or so in the evenings while my husband gives him a bottle and a bath.
WTF: Is there anything that you would like to say to your readers?
Nicole: Thank you for reading my books; I know you have a lot of choices.

I also really appreciate the feedback, good or bad, so don't hesitate to leave a review on Goodreads or online. I'm also available via email, etc. Thanks again!
Nick Cord...
Meticulous...intense...brilliant...controlled.
Controlled by the need for order in his life. Controlled by the fear of becoming his abusive father. Controlled by the demands for perfection in the software that he creates. Controlled by the thought that she can never belong to him.
Blake Webster, is determined.
Determined to never again live her life in fear of the abusive men who have tried to break her. Determined to make the world around her a better place. Determined to reclaim her sensuality safely, on her own terms, and with someone her heart knows how to trust.
What readers have in
A French Whipping,
is the story of two survivors,both wounded, both struggling to overcome their pain, but choosing drastically different approaches to do so.
While Blake's scars are a lot more visible, and the threat she faces based solely in the physical. (A controlling ex-boyfriend, bent on her destruction. ) It seems that Nick's need to keep everyone at bay and keep his emotions under lock and key, is the crux of his white-knuckled walk through life.
So when the sweet and beautiful Blake asks him to be her escort back into the world of sexual pleasure; Nick is both thrilled and terrified.
Authoress Nicole Camden once again manages to achieve the perfect blend of captivating drama, panty-dropping BDSM laced erotic play, and in-your-face contemporary realism.
While Nick may have more money than Midas. He still reads as honest and real.
As for his leading lady...
Can you say Wonder Woman? Blake is a true heroine. A woman who has walked through the fires of abuse, and now stands ready to take her place in the sun.
This is a book in which the prince does indeed save the princess, but she in turn, saves him right back.
And...
They journey together toward their custom made, kink filled happily ever after. A sweet ball of purring fur named Missy in tow.
Enter to win an e-copy of
You must be 18 + to enter this promotion
You must provide a valid email address,
About Nicole