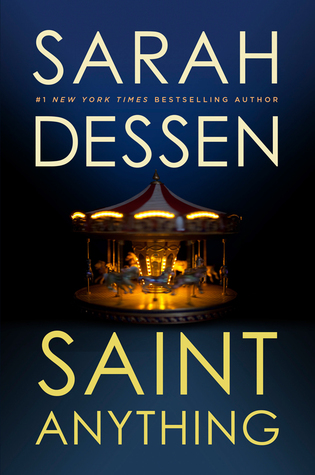 Title: Saint Anything
Author: Sarah Dessen
Format: ERC
Length: 417 pages
Publisher: Viking Juvinile
Rating: 5 Stars
Peyton, Sydney's charismatic older brother, has always been the star of the family, receiving the lion's share of their parents' attention and—lately—concern. When Peyton's increasingly reckless behavior culminates in an accident, a drunk driving conviction, and a jail sentence, Sydney is cast adrift, searching for her place in the family and the world. When everyone else is so worried about Peyton, is she the only one concerned about the victim of the accident?

Enter the Chathams, a warm, chaotic family who run a pizza parlor, play bluegrass on weekends, and pitch in to care for their mother, who has multiple sclerosis. Here Sydney experiences unquestioning acceptance. And here she meets Mac, gentle, watchful, and protective, who makes Sydney feel seen, really seen, for the first time.

The uber-popular Sarah Dessen explores her signature themes of family, self-discovery, and change in her twelfth novel, sure to delight her legions of fans -Goodreads
My Thoughts
Saint Anything is a wonderful tale of self-realization that comes from a very dark place.
Peyton Stanton can only watch as the threads that hold her family together unravel; after her charismatic, but charming brother Peyton, paralyses a young man while driving drunk.
Sydney find that while having Peyton in prison changes the shape of the family, and the way that she is perceived by people who know of her brother's crime; she is still living in his shadow at home.
With Peyton's legal costs mounting, Sydney transfers from the exclusive Perkins Day School, to the local public high school.
This is where things really start to take off for both Sydney, and the story. She meets Layla Chatham,
and finds in her and her warm and chaotic family, the soft place to fall and unconditional acceptance that she craves.
This is also where she finds her love. One Macaulay Chatham.
This is such a sad story, in terms of the blatant and unnecessary parental...I can't even call it neglect!
Let's say...non-action. Sydney's mother is obsessed with her son, and her father is just checked out.
Sydney is just left to her own devices for much of the read, and then when her mother does come up
for air in the latter part of the story, its just to strip Sydney of the comfort zone that she has built for herself. This is the part where Kindles and other devices may be used as projectiles.
Back to the Chathams...
Their family is so warm and caring and, well...normal. Even in the face of the ever present threat of the worsening of Mrs. Chatham's multiple sclerosis.
They are the picture of how Sydney's family should be, dealing with their adversity together, not allowing their troubles to create divisions among them.
There are so many layers to this story. This is a very big and emotionally complex read. So much so, that you are glad mid-book, when the simple sweetness of Sydney and Mac's love story is allowed to take to the forefront.
There is a surprising and redeeming catharsis for Sydney and her mother at book's end.
I love this book!
This is the best Sarah Dessen EVER!
About Sarah
Hi. I'm Sarah. Writing a bio is always a little weird, if only because it seems completely self-absorbed. I have a standard one that I send out, which lists where I got my degree, the names of my books, all the same boring basic facts. But for this website, I'm supposed to do something more, give a sense of who I really am. So here goes.
The books I read when I was teenager, the good ones anyway, have stuck more in my mind than anything since. I still love books, but while I couldn't tell you complete plots of novels I read even six months ago, I do remember even the smallest descriptive details from Lois Lowry's A Summer to Die or Judy Blume's Are You There God? It's Me, Margaret. I think it was because back then books were still somewhat new to me, and when I found an author who seemed to say just what I was feeling, it really struck me and resonated. I hope that my books do that for the people who read them: I think it's the best thing to which any writer can aspire. I've also been lucky enough to teach writing and see my students find their own voice. Teaching was great for me, because I got to show people how writing can really change the way you see not only yourself but the world. I've found in my own life that if my writing isn't going well, not much else will. It is the one constant, the key to everything else.
Now that I'm writing full time, I have my good days and bad days. But I'd rather be doing this, even on the worst days, than anything else. As far as my other life, my non-writing life, I live in the country with my husband, my daughter, and two very spoiled dogs. I like to work in my garden—although I have not yet perfected the art of keeping everything alive—-and, in my weaker moments, shop. What else can I tell you? I love Starbucks mochas but they make me way hyper. I subscribe to too many magazines. I make a mean bean salad. I could go on, but the truth is, my books are much more exciting than I am, and that's a good thing. It's always more fun to make stuff up anyway.