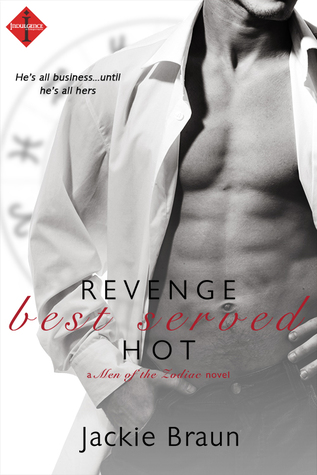 Title: Revenge Best Served Hot
(Men Of The Zodiac #6)
Author: Jackie Braun
Format: ERC
Length: 239 pages
Expected Date Of Publication: June 9th, 2015
Publisher: Entangled/Indulgence
Rating: 5 Stars

Sign: Virgo

He's all business…until he's all hers

Brody Flynn waited years to get his revenge on Douglass Shipping for his parents' accidental deaths. Now the company is fumbling, profits are down, and it's the perfect time for a hostile takeover. Vengeance. But the former CEO's daughter Kate Douglass has other plans…

Kate's been waiting for her chance to take on a real role at Douglass and prove to her family that she's not the fragile piece of glass they all think she is. There's no way she'll give up without a fight. All she has to do is convince the gorgeous new CEO to hire her…and not fall for him.

But Brody was never supposed to feel attracted to the daughter of his enemy. He was never supposed to want her as hard as he does. And the only thing stronger than his hunger for revenge is his hunger for her… -Goodreads



My Thoughts
Virgo exists in the mind, everything is inside. To the world, Virgo presents a calm and collected exterior but on the inside, nervous uncontrolled intensity in the mind, trying to figure things out, how to improve everything, analyzing and thinking. Virgo can tire itself out without even moving! Virgo has a constant drive to improve and perfect, this can lead to extreme pickiness and finickiest. They are pure, their motives are honest never malicious and they want to accomplish something.
- Excerpt from: http://zodiac-signs-astrology.com/zodiac-signs/virgo.htm

True to his astrological description, Brody Flynn, is a man who lives in his mind. The years following the tragic deaths of his parents in an accident caused by the unethical practices of Douglas Shipping, have honed his thoughts to one razor-sharp point...revenge.

Never one to rush; Brody has bided his time well. Douglas Shipping, having fallen victim to the ravages of lackadaisical management and an outmoded business model, is now his for the taking.

And everything goes according to plan except the one thing that couldn't...Kate Douglas...

Underestimated and overlooked, Kate has languished in her father's shadow, as the powerless figurehead of a floundering enterprise. Determined to save the company that she loves at any cost, and desperate to show herself worthy of the respect that she has been so wrongfully denied. Kate will place herself in the heart of the lion's den, to achieve her goals!


Authoress, Jackie Braun, puts readers front and center in a real-world "game of thrones". Allowing them to bear witness to the dethroning of one king, and the crowning of another. The fact that the "act of war" initiated by Brody on the Douglases originates from such deeply personal territory,
sets the stage for Brody's role of wounded leading man. Thankfully, Brody is never allowed to fall victim to his pain, or allow his pain to turn him into a power-mad or bitter man. Instead, he is shown to be guarded but fair in his dealings, and more than willing to look at situations from differing points of view...in most cases.
Kate is a heroine to be proud of. A Virgo herself, this lady shows that she can not only take what Brody has to give; she can improve upon it, and serve it back even better.
Her honesty in all things, coupled with her loyal nature, makes her perfect for the wary warrior that is Mr. Flynn.
The romance found here is one wrought by tension and longing. These very powerful motivations made more intense by they fact that they carry over from business to the bedroom.
The sensual side of things doesn't really come to the forefront of he story until both Brody and Kate are fully fleshed, and readers have become fully vested in their happiness as individuals.
Don't expect things to be all wine and roses with these two. Unfortunately, there are more than a few emotional bumps and bruises to be had for these to on the way to their dynastic 'happily ever after'.
Reviewer's Note:
This book is the 6th in a companion series. Each novel in said series may be read in any order, as a stand alone, or as part of the
Men of The Zodiac
series.