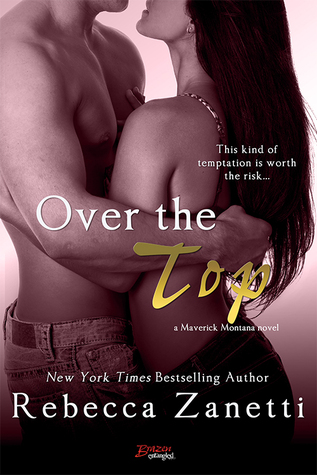 Title: Over The Top
Publisher: Entangled/Brazen
Dawn Freeze had a huge crush on Hawk Rain for years, and the entire town knows it. It's understandable―the man is total hotness. That tall, lean body. Intense dark eyes. And always one foot out the door. Now he's on leave for exactly one week. And this time, he's made it crystal clear that he only wants one thing. Her.

Hawk's been fighting his attraction to Dawn for as long as he can remember. She's his best friend's little sister, and that means hands-off. Except now she's all grown up, and her sweet sexiness is exactly what he craves. But just as Hawk allows himself one mind-blowingly intense night with Dawn, he learns that everyone he loves is in danger. Especially her.

And the only way to protect Dawn is to push her away... -Goodreads
My Thoughts
It is a well-known fact that keeping secret keeping is an almost impossible in endeavor in the close knit community of Mineral Springs, Montana. Especially when said secrets concern the love lives of town darling, Dawn Freeze, and the darkly rugged Hawk Rain.
When Hawk returns to town looking to rest and recover from the riggers of tracking dangerous criminals as part of an elite private security organization; he finds himself powerless to resist the magnetic pull of Dawn's untamed spirit and dancing blue eyes.
Meanwhile, try as she might. Dawn just can't seem to find the strength in mind or body to say no to her "take no prisoners and make no promises" gentleman soldier.
Just as Hawk is ready to concede the battle for his heart to the lovely Dawn, duty calls, and he must fight a battle of a different sort, as an escaped drug runner with nothing to lose closes in on Mineral Lake, and everything that Hawk has sworn to protect.
There is so much to love about this read! Hawk and Dawn are a perfect match! He may be Rambo, but she is every inch Calamity Jane. Because it is clear from the story's beginning, that these two share a long and rather involved history; it is very nice to find that they don't waste time with stalling and trivial 'what ifs' before succumbing to their passions.
The fact that they even try to keep things a secret from the myriad of friends and relations that they both share, proves both comical and heart-warming. Especially in the case of resident "Golden Girls" and matchmakers extraordinaire, Mrs Hudson and Mrs. Poppins. Who are so invested in seeing the two together that they give Dawn a pillow with the following "rules" lovingly stitched on its front.

How to Catch a Man
1. Make your man the only man around.
2. Don't give the cow away (AKA NO SEX).
3. The way to his heart really is through his stomach.
4. Let your man rescue you.
5. Give him the illusion of control so you can chase him until he catches you.
There is so much of this good-natured interference going on by so many different parties, that it causes to loose sight of Hawk's dangerous mission. (Ahem...)

Bringing us to the only down side in an otherwise perfectly delectable read.
The action...or should I say lack of it.
There is lot of posturing and tons of allusion to what might happen, but things fall a bit flat on the Rambo front.
What this is...
Ruggedly romantic
Emotionally appealingly
Supremely sexy
Fantastically funny
Wonderfully written
Proudly multicultural

What this is not...
Explosively action packed
In short. This is a setting filled to the brim with people and stories made to be revisited. The fact that this novel is #4 in the Maverick Montana companion series means that you get to do just that.
About Rebecca