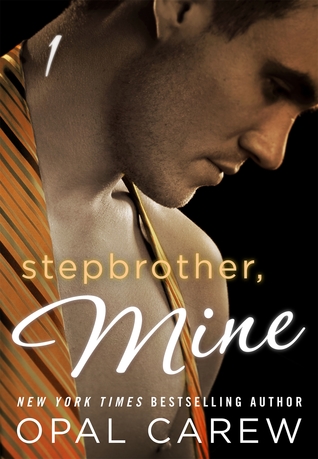 Title:
Stepbrother, Mine
(Stepbrother, Mine #1)
Author: Opal Carew
Format: ERC
Length: TBD
Publisher: St. Martin's Griffin
Rating: 5 Stars
From New York Times bestselling author Opal Carew comes an erotic new serial about the lengths to which one woman will go to live the life of her dreams.

Dana's always had a clear vision of what she wanted out of life. But when her father dies during her final year of college, Dana's whole world threatens to topple down. In desperate need of money, she comes up with an idea. It's scandalous. It's HOT. And it's got everybody talking. . Is Dana really going to auction off her own virginity? And at what cost? -Goodreads
My Thoughts
When hard times call for extreme measures, and an unexpected falling out with her flighty mother threatens Dana's pursuit of a Masters of French Literature degree. She makes the fateful decision to sell a most precious commodity to the highest bidder.
Her virginity...
Unbeknownst to Dana, sometimes fate and money walk hand in hand...
and when the man who wins her body, just happens to be the one who won her teenaged heart years earlier. She learns that sometimes...just sometimes...even one's deepest, darkest fantasies can come true.
Even when the star of those fantasies is your stepbrother.
Told in dual points of view, Step brother, Mine #1 manages to give readers a complete story
As a result, we are privy to information about leading man Mason, which serves to up the erotic stakes for both readers and his leading lady.
Turning this story from a simple blend of older millionaire / ingenue and forbidden fruit fantasy. To a true erotica lover's trifecta with the addition of his sub/dom fetishism.
Making things even better story-wise, is the very emotionally charged back story that Dana and Mason share. Woven into their present story, and also told from both points of view. This is where we get the who's, when's, and why's that helped to shape these two into the people that they have now become. This is also when readers become privy to some pretty explosive family secrets.
The surprising completeness of this first novella as a story, only serves to heighten its erotic aspects. Because readers are fully aware of what is at stake for both Mason and Dana; we are fully able to invest in their coming together.
And come together they do...
Dana proves that she is a young women who knows both what she wants and exactly how to get it!
This is an exceptional example of what the erotic serial is meant to be, and one that this reviewer is proud to highly recommend.
About Opal
Opal Carew is the author of over a dozen romance stories in which she makes offerings of hope, success, and love to her readers. Opal loves crystals, dragons, feathers, cats, pink hair, the occult, Manga artwork, and all that glitters. She earned a degree in Mathematics from the University of Waterloo, and spent 15 years as a software analyst before turning to her passions as a writer. Opal lives with her husband and two teen-aged sons in Ontario, Canada.