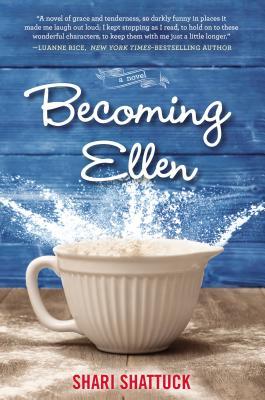 Title: Becoming Ellen
Author: Shari Shattuck
Format: ERC
Date Of Publication: August 11, 2015
Publisher: G.P. Putnam's Sons
Rating: 4 Stars
Returning in the bestselling tradition of Jennifer Weiner, Shattuck brilliantly illustrates the deep friendship between two absolutely unforgettable women in this touching yet funny novel.

Ellen Homes is done being invisible. Well, sort of.

Living with her closest friends, Temerity and Justice, has helped her step out of the shell of invisibility she once hid away in. She still seeks refuge in solitary time and observing from afar, but she has pushed herself to open up to others in ways that bring her unexpected happiness.

But when a terrible bus crash upends her normal routine, Ellen finds herself on a whirlwind crusade for the unseen and downtrodden. Only this time, helping others—including two young children with no one else to turn to—will mean facing a pain from her past that she's long tucked away.

Picking up where Invisible Ellen left off, Becoming Ellen returns us to the touching, poignant, and compassionate world of Ellen Homes as she learns how to navigate the world she has decided to become a part of.
-Goodreads
My Thoughts
Reviewer's Note: Because book 1 of this duology provides readers with a detailed and very relevant backstory which is imperative to the understanding of both the characters and character motivations, which are the basis for book 2. It is strongly suggested that book 1, entitled Invisible Ellen, be read first.

Ellen Homes has come a long way from the reclusive shadow that readers were introduced to in Invisible Ellen. Now living with her best friends, Temerity and Justice; Ellen is slowly coming to realize that she is ready to shed the self-imposed cloak of invisibility that has been both her shield and her prison for the majority of her life.
When the plights of two young children spur Ellen into action. She is forced to confront the demons of neglect and abuse in her own tragic past. Putting her sleuthing petal to the metal at work, also puts Ellen front and center with very illegal, and even more dangerous goings on with some of her more shady co-workers amid the Costco night shift.

Becoming Ellen is not a book that is meant to be breezed through. It is both emotionally complex and at times, almost painfully slow. Readers must understand that Ellen is a woman who has made it through life without many of the social skills or the context for said skills, that most of us take for granted. As a result, each attempt to participate in, or change things in her world is the equivalent of climbing Mount Everest.

Surprisingly, there is love to be had amid all the chaos, self discovery, and Temerity inspired Nancy Drewing. For Temerity, romance comes at the piano playing hands of her new downstairs neighbor. Justice finds his happily with a sweet lady doctor, and Ellen makes three, with the equally shy and incredibly patient musician Rupert.

This is a very compelling read, that draws one in and doesn't let go until its ending pages. Please be advised that even though the sensitive issues of child abuse and neglect are handled with great respect and care; these issues can serve as a trigger for some readers.

*I was provided with a copy of this work as part of Penguin's First To Read program in exchange for the honest review provided.*
About Shari
Shari is an author, actress, mom and everyday philosopher, (meaning that she says, "Oh well,' quite a bit.) She lives in the forests above Los Angeles with her film director husband, Joseph P. Stachura, and their two magnificent daughters. She has published seven novels, her eighth "Becoming Ellen" is available August 11th, 2015. She has appeared in over 200 stage, film and TV productions. Her favorite roles include Sally Bowles in 'Cabaret,' Beatrice in "Much Ado About Nothing' and Lyles in "On Deadly Ground.
"
Find Shari:
Website
/
Facebook
/
Twitter
/
Goodreads