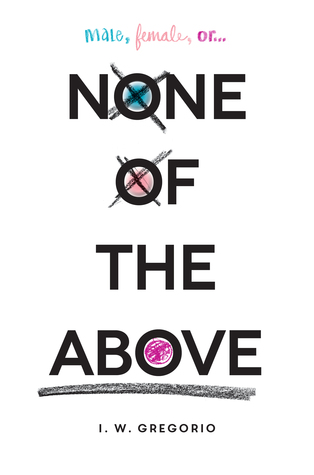 Title: None Of The Above
Author: I. W. Gregorio
Format: ERC
Length: 352 pages
Publisher: Balzer + Bray
Rating: 4 Stars
A groundbreaking story about a teenage girl who discovers she was born intersex... and what happens when her secret is revealed to the entire school. Incredibly compelling and sensitively told, None of the Above is a thought-provoking novel that explores what it means to be a boy, a girl, or something in between.

What if everything you knew about yourself changed in an instant?

When Kristin Lattimer is voted homecoming queen, it seems like another piece of her ideal life has fallen into place. She's a champion hurdler with a full scholarship to college and she's madly in love with her boyfriend. In fact, she's decided that she's ready to take things to the next level with him.

But Kristin's first time isn't the perfect moment she's planned—something is very wrong. A visit to the doctor reveals the truth: Kristin is intersex, which means that though she outwardly looks like a girl, she has male chromosomes, not to mention boy "parts."

Dealing with her body is difficult enough, but when her diagnosis is leaked to the whole school, Kristin's entire identity is thrown into question. As her world unravels, can she come to terms with her new self? -Goodreads
My Thoughts
Gender roles and gender identity are two of Western society's touchiest subjects. Indoctrinated from birth, by the great "this is what boys/girls are made of..." machine known as the status quo. We are erroneously made to believe that any one who, for whatever reason does not fit said precept for acceptability is somehow wrong.
Knowing this...imagine your shock if, after years of believing yourself to be female; you suddenly found out that you we're now that "other".
That is the story told in the thought provoking and timely None Of The Above.
Kristen is an 18 year old senior, who appears to have it all. Great friends, a wonderful boyfriend, a supportive father. So there is no way that she could ever suspect that a visit to her gynecologist after a painful first attempt at sex, would change her life forever.
The honest realism of this read makes parts of it very difficult to read. The scorn, ridicule, and even blame that Kristen faces after her diagnosis is made public, is both infuriating and heart breaking. Thankfully, Kristen has the benefit of both a very fast acting support system; she also has access to appreciate medical treatment and information about her condition.
Though a fictionalized accounting of what is for many a very real fact of life,
this story is full of very helpful information that those seeking answers can use to understand what being intersexed really means.
Most importantly, None Of The Above allows readers to see that gender and sex have no bearing on who a person is in relation to friendships, relationships, or their capacity to love and to be loved in return.
In short...
Your human condition should never be allowed to make you conditionally human.
About