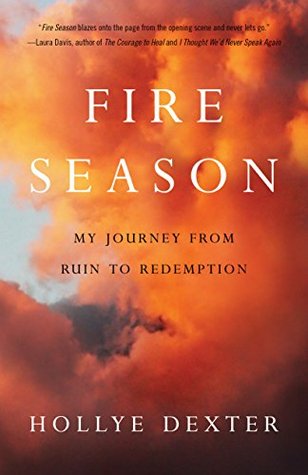 Title: Fire Season
Author: Hollye Dexter
Format: Print
Length: 278 pages
Publisher: She Writes Press
Rating: 5 Stars

Who would you be if you lost everything?

Hollye Dexter and her husband Troy woke one night to find their house ablaze. To escape the fire, they had to jump from their second-story window with their toddler son—and then watch their house and home-based businesses burn to the ground. Over the next two years, the family went bankrupt, lost their cars and another home, and got dropped by their best friends. As the outer layers of her life were stripped away, Dexter began to unravel emotionally; but then she found herself on the brink of losing her marriage, and she realized that if she was going to save her family, she would have to pull herself back together somehow.

As she fought to reassemble the pieces of the life she'd had, Dexter discovered that a shattered heart has the ability to regenerate in a mighty way; that even in the midst of disaster, you can find your place; and that when everything you identify with is gone, you are free to discover who you really are. Poignant and inspiring, Fire Season is a story for anyone who has ever lost hope—and found it again -Goodreads

My Thoughts
Loosing everything...what does that truly mean?
This is a question that Hollye and Troy Dexter found themselves grappling with on more than just a philosophical level, as they stood gazing up at the blazing inferno which had, just hours before been their home.

They were safe.
The children were safe.
But...

Their, memories, safety, businesses, stability, their home, was no more.

This heart-felt memoir is a inspiring journey through the hell of grief, loss, and fear. The journey through sleepless nights, PTSD, arguments, and mistrust.
The journey through life without a parachute.


The destination...
The understanding that life is full of gains and losses. The human spirit is as strong as the human condition is frail.
The understanding that its not about the what's in life, but about the who's.
Who you have, who you lose, who you save, and who in your life gives you the strength to rise from the fire seasons of your life, and begin life anew.
This is a wonderfully inspiring read that reader from all walks of life can identify and emotionally connect to. Written with the descriptive flair of a novel, Fire Season renders the ordeals of the author's life in such brilliant detail, that the scenes become an experience for the reader. Just as they are for those reliving them within this book's pages.
This is the story of life, love, and learning how to be the fire fighter in one's own existence!
About Hollye