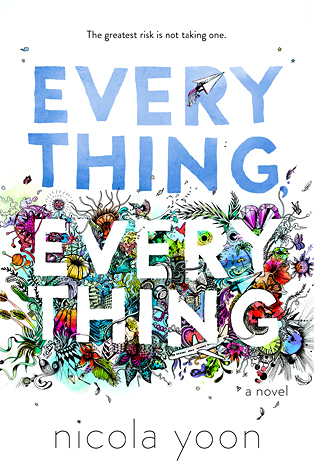 Title: Everything, Everything
Author: Nicola Yoon
Format: ERC
Length: 320 pages
Expected Publication: September 1, 2015
Publisher:
Delacorte Books for Young Readers
Rating: 5 Stars
This innovative, heartfelt debut novel tells the story of a girl who's literally allergic to the outside world. When a new family moves in next door, she begins a complicated romance that challenges everything she's ever known. The narrative unfolds via vignettes, diary entries, texts, charts, lists, illustrations, and more.

My disease is as rare as it is famous. Basically, I'm allergic to the world. I don't leave my house, have not left my house in seventeen years. The only people I ever see are my mom and my nurse, Carla.

But then one day, a moving truck arrives next door. I look out my window, and I see him. He's tall, lean and wearing all black—black T-shirt, black jeans, black sneakers, and a black knit cap that covers his hair completely. He catches me looking and stares at me. I stare right back. His name is Olly.

Maybe we can't predict the future, but we can predict some things. For example, I am certainly going to fall in love with Olly. It's almost certainly going to be a disaster. -Goodeads
My Thoughts
This is a review that has been a long time in coming. The reason being that, for the longest time, I had deemed no words eloquent enough to convey my thoughts about this book to the world at large.
Imagine living life of one.
Having never tasted rain,
and never knowing warmth of sun.
For you the days are filled with charts,
and measured levels in your blood.
Things, for others...innocent,
for you hold hidden poison darts.
They say that your next breath could kill,
that mere touch will stop your heart.
That deadly will be your first kiss,
for EVERYTHING can make you ill.
Resolved in your content dis-ease,
to play the hand that you've been dealt.
Plotting out escape in books,
Unfettered flights in reveries.
Until the day that you espy,
the one who makes you long for more.
He that starts your heart to race,
and adds a twinkle to your eye.
Bundt cake dies a sordid death,
that he might only see your smile.
Late night words shared by IM,
fill hours once reserved for rest.
Secret meetings, stolen time,
arranged by your best friend and nurse.
Your body never once betrays,
a single facet of your crime.
This poem is inspired by the all encompassing beauty that is the story of Maddie and Olly. Two people who fell in love anyway.
EVERYTHING, EVERYTHING by Nicola Yoon.
About Nicola
Find Her: Web / Tweet / Goodreads / Tumblr