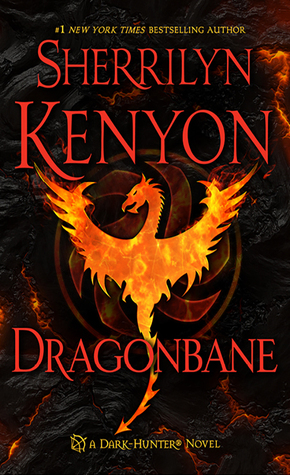 Title: Dragonbane
(Were-Hunter #9)
Author: Sherrilyn Kenyon
Format: Print
Length: 320 pages
Publisher: St. Martin's Press
Rating: 5 Stars
Out of all the mysterious boarders who call Sanctuary home, no one is more antisocial or withdraw
n
than Maxis Drago. But then, it's hard to blend in with the modern world when you have a fifty foot wingspan.

Centuries ago, he was cursed by an enemy who swore to see him fall. An enemy who took everything from him and left him forever secluded.

But Fate is a bitch, with a wicked sense of humor. And when she throws old enemies together and threatens the wife he thought had died centuries ago, he comes back with a vengeance. Modern day New Orleans has become a battleground for the oldest of evils. And two dragons will hold the line, or go down in flames. -Goodreads
My Thoughts
Dragonbane
is the latest offering in the Dark Hunter saga. This is one for the were-lover in us all.
Yes...There will be dragons!
Maxis Drago has lived his life, as a product of his past. The pain of his past to be exact.
A son of alchemy and nature combined.
Blamed and branded.
Beaten, tortured and torn from the love of his life.
Charged with the protection of sacred items that if lost to the wrong hands, could mean the destruction of the world.
Because of what and who he is...Maxis Drago has lived a very solitary existence. But as the powers of darkness threaten to once again engulf the world. Max finds that he has a new and more important reason to fight...
Family!
And as one of the residents of the famed Sanctuary, he will also come to realize that his family has gotten a lot larger than he thought.
Maxis's story is very involved, more involved in fact, than it seems at the outset. To my count, there are three stories being told here. The present-day, with Seraphina's return, the god-plot, and lots of demon fighting. The fighting, saving, and in this case loving, that goes on in other realms, and the two-fold look at his history with both the Amazons (Seraphina) and his amd Illarion's time in Arcadia.
The everything about this book catches the reader's attention right away. This is not a book that one can simply skim. Because the action is so fast paced, the settings and time periods are prone to change at a moment notice, and there are new characters added throughout the story. There is hardly time to blink.
Both Maxis and his story are strong, but the addition of Seraphina, his brothers Illarion, Falcyn, and Blaise, and two wonderful surprises. There is so much more to love in this story!
Seraphina really shines in this read. So much so, in fact, that she is a character that one starts to look for as the book progresses. It is because of her that we get to the emotional side of Maxis that proves such a driving force in this tale.
Speaking of emotions.
This review would not be complete if I did not say something about the hot...sexy...DRAGON LOVE being made in this book. Maxis and Seraphina have a soul-deep love that scorches the pages of this book with every touch, look, and caress that the two share. Making their love even more special, is the fact that they much fight to have it. Against fate, the mistakes, of their pasts, and most importantly, their own pride and fear.

Though this is a book that has its place in a well developed series, you safely can begin your journey into the Dark Hunter-verse here.
Fair warning.
One story will never be enough!
Want more of the DRAGON?
About Sherrilyn:
Fan Run International Sites:

Argentinian FB Page

Fans de Sherrilyn Kenyon en Columbia

Fans de Sherrilyn Kenyon en Chile

Filipino Fans on FB

France/French

Italy/Italian

Portugal

Soy Fans de Sherrilyn Kenyon

Dark-Hunter Spain

Spanish
Dragonbane (Dark-Hunter Novels)