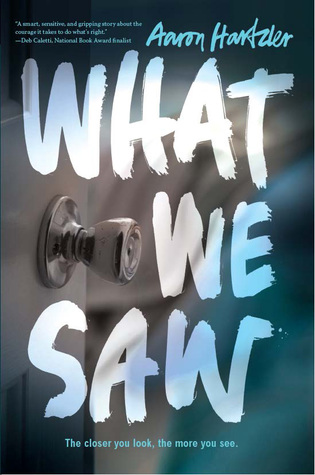 Title: What We Saw
Author: Aaron Hartzler
Format: ERC
Length: 336 pages
Expected Date of Publication: September 22, 2015
Publisher: HarperTEEN
Rating: 5 Stars
Read an excerpt from WHAT WE SAW for free in the Publisher's Marketplace 2015 Fall/Winter YA Buzz Books Collection.

Kate Weston can piece together most of the bash at John Doone's house: shots with Stacey Stallard, Ben Cody taking her keys and getting her home early—the feeling that maybe he's becoming more than just the guy she's known since they were kids.

But when a picture of Stacey passed out over Deacon Mills's shoulder appears online the next morning, Kate suspects she doesn't have all the details. When Stacey levels charges against four of Kate's classmates, the whole town erupts into controversy. Facts that can't be ignored begin to surface, and every answer Kate finds leads back to the same question: Where was Ben when a terrible crime was committed?

This story—inspired by real events—from debut novelist Aaron Hartzler takes an unflinching look at silence as a form of complicity. It's a book about the high stakes of speaking up, and the razor thin line between guilt and innocence that so often gets blurred, one hundred and forty characters at a time. -Goodreads
My Thoughts
Everybody knows what happened to Stacy Stallard on the night of John Doone's party.
For Kate Weston, that is just one of the questions that she finds herself asking in the days following the party.
As rumors, pictures, and texts abound...and then there are charges.
While Kate comes to grips with the fact that the truth of who and what she can and should trust, is not as clear as she has always believed.
She also comes to understand that the line between what didn't happen to her that night, and what did happen to Stacy is much thinner than she, or anyone would like to admit.
In a culture where communication is key, Aaron Hartzler's What We Saw, dares to shed a light on
what can and does happen when the perceived privilege of a select group is allowed to supersede the inalienable rights of a defenseless individual. Leaving said individual open to scorn, threats, and ridicule. Their righteous cry for help, comfort, and justice...silenced.
While those who participated, either directly or indirectly in their harm, are coddled, protected, and excused from even the possibility of wrong doing; on the basis of nothing more than social standing, money, and popularity.
While this glaringly honest and very well written depiction of events does give readers a 'up close and personal' view of institutionalized cowardice at its worst. It also allows its audience to turn a mirror upon itself...one reader at a time. Giving each reader the chance to ask themselves,
If I were in the victim's, perpetrators', witness's places. Would I behave as they did, or would I react differently?
This is by no means an 'easy read'. It can be a very strong trigger for those with bullying or rape trauma of any kind. This is however, a read that I highly recommend for adults and teens. I believe that it can be a powerful tool in the quest for empathy and compassion in a world in which those sentiments are so often reduced to sound bites on the evening news.
About Aaron