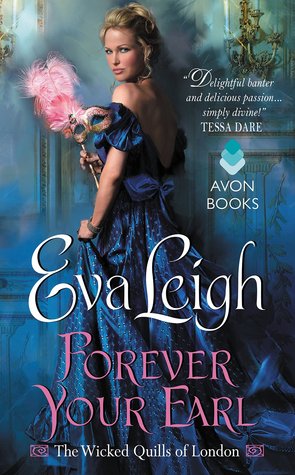 Title: Forever Your Earl
(Wicked Quills Of London #1)
Author: Eva Leigh
Format: ERC
Length: 384 pages
Expected Date Of Publication: September 29th, 2015
Publisher: Avon Books
Rating: 4.5 Stars

Eva Leigh makes her Avon debut with the first book in her smart and sexy Wicked Quills of London series!

Eleanor Hawke loves a good scandal. And readers of her successful gossip rag live for the exploits of her favorite subject: Daniel Balfour, the notorious Earl of Ashford. So when the earl himself marches into her office one day and invites her to experience his illicit pursuits firsthand, Eleanor is stunned. Gambling hells, phaeton races, masquerades…What more could a scandal writer want than a secret look into the life of this devilishly handsome rake?

Daniel has secrets and if The Hawk's Eye gets wind of them, a man's life could be at stake. And what better way to distract a gossip than by feeding her the scandal she desperately craves? But Daniel never expected the sharp mind and biting wit of the beautiful writer, and their desire for each other threatens even his best laid plans.

But when Eleanor learns the truth of his deception, Daniel will do anything to prove a romance between a commoner and an earl could really last forever. -Goodreads

My Thoughts

Here's one for all the working girls! The women who proudly bring home their own bacon, and still manage to win the hearts of their leading men.
E. Hawke can't help the fact that she has a nose for news. Or that said nose, coupled with an intricate network of informants, has made her newspaper, The Hawke 's Eye, the go-to source for scandalous happenings in and around London's upper-crust.

The Problem?


It seems that The Hawke's Eye has been watching the going's on of one Daniel Balfour, Earl of Ashford, just a tad more closely than he and his rakish ways will warrant.
Determined to see the face of the person who dares to give account of his escapades to the masses;
he is woefully unprepared to find the beauty, wit, and undeniable intelligence, that is Eleanor Hawke as the source of his bedevilment.
In an effort to ensure "truth in reporting" Daniel proposes that Miss Hawke follow him on his nightly excursions, that she may come to better understand the nature of the "rake" that she has made her business.
This first book of the Quills Of London series presents readers with a very well expressed tale of ambition, hard won respect, love, and secrets.
The start of this story may throw readers for a loop pace-wise; due to the fact that the initial meeting, agreement, and first excursion undertaken by Daniel and Eleanor spans some 7 chapters. Though this does give readers and the characters themselves time to get to know one another. It slows the momentum of the story quite a bit.
Thankfully, the pace of this novel increases steadily from chapter 8 onward.
As far as main characters go, Eleanor and Daniel are a hand-in-glove match. She with her "take no prisoners" outlook on life. He with his need to know and understand, rather than to judge.
We find that as time goes on, the focus of the the plot shifts from her need to know him, to his to know her.
The more that they come to know of each other, the more they come to realize that they are for the other, one and the same.
Aiding in this realization is the deep respect that they each garner for the other through the course of their various interactions. This respect and the intimacy that it cultivates between our leading man and his lady, serve as a gateway to page burning passion.
Surely, you do not believe that all of the dramatic goodness stops here.
Oh no, dear reader!
There is so much more!
It seems that in following Daniel, Eleanor stumbles upon a secret that if revealed could mean the destruction of an already broken man, the desolation of a dynasty, and the loss of the only man that she will ever love.
Will she choose her love of the story, or her love for the man?
The answer to this question and many others can only be found in Forever Your Earl...book 1 of the toe-curlingly romantic Quills Of London series!