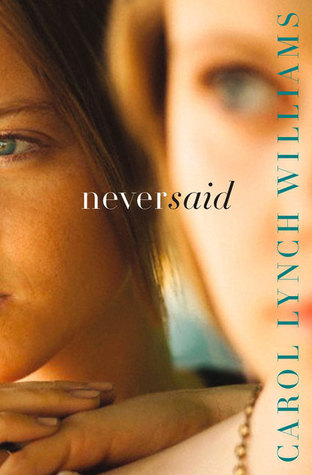 Title: Never Said
Author: Carol Lynch Williams
Format: Print
Length: 256 pages
Publisher: Blink
Rating: 4.5 Stars
For as long as she can remember, Sarah's family life has revolved around her twin sister, Annie—the pretty one, the social one, the girl who can do anything. The person everyone seems to wish Sarah—with her crippling shyness—could simply become.

When Annie suddenly chops off her hair, quits beauty pageants, and gains weight, the focus changes—Annie is still the star of the family, but for all the wrong reasons. Sarah knows something has happened, but she too is caught in her own spiral after her boyfriend breaks up with her and starts hanging out with one of Annie's old friends.

Annie is intent on keeping her painful secret safe. But when she and Sarah start spending time together again for the first time in years, walls start to break on both sides … and words that had been left unsaid could change everything. -Goodreads
My Thoughts
This is the story of two sisters. Two lives lived as closely as two lives can be, and the secrets that keep these lives miles apart.
They are twins...Annie and Sarah. One sun and one moon. One seen, the other ignored.
Annie, the beautiful, outgoing, popular, pageant queen.
Until...
She is not.
Until...
She hides herself.
Covers herself pound by pound, mouthful by mouthful.
No one bothers to ask why.
They just bully and criticize.
Make cruel jokes, and say that she would be so pretty if...
No one bothers to really see.
No one, that is except Sarah.
The one that no one sees.
The other.
The one who is not Annie.
Written in dual viewpoints. This book tells the story of a family full of secrets, denial, and miscommunication.
Obsessed with chasing the specter of Norman Rockwell perfection; they are blind to cracks and flaws that, if left unaddressed threaten to destroy their most vulnerable members from the inside out.
This book is not what one expects, and so much more than what one may be tempted to assume.
The plot unfolds very much in the way that a mystery does. Giving the reader clues as to what may have happened to Annie, but never giving the full explanation until book's end.
Along the way however, we get to see the dynamics of both the sisters' relationships both with each other, and with others close to them. We also get to see how said dynamics change as their relationships and perceptions of themselves and each other evolve.
Because the chapters are relatively short and alternate between free verse and prose. The medium paced plot seems to fly by. The alternating styles of writing also gives each girl her own very unique voice.
While it is true that this story does deal with very difficult subject matter. It does so in a way that does not make lend said subject matter any more importance than the evolution of the personal relationships which lie at the heart of the read.
The one and only detraction to be found is the rushed feel of the resolution.
*Reviewer's Note*
This book can be read by younger teens. In fact, this reviewer strongly suggests this book as a read that parents read with their teens.
I do caution that this work contains scenes that could function as a trigger for to those who have weight, sexual abuse, and/or bullying issues.
I was provided with a copy of the referenced work in exchange for the honest review provided.
About Carol
About the Author: Carol Lynch Williams, a two-time winner of the Utah Original Writing Competition, is the author of several books for children, including two novels about the Orton family of New Smyrna, Florida:
Kelly and Me
and
Adeline Street.
A starred
School Library Journal
review of
The True Colors of Caitlynne Jackson
praises Williams as she "again demonstrates her facility at mood and character development... Truer colors are hard to come by."
Her most recent novel,
If I Forget, You Remember,
is a moving intergenerational story that stresses the bonds that hold families together through difficult times--a help since over 19 million Americans have a family member with Alzheimer's disease.