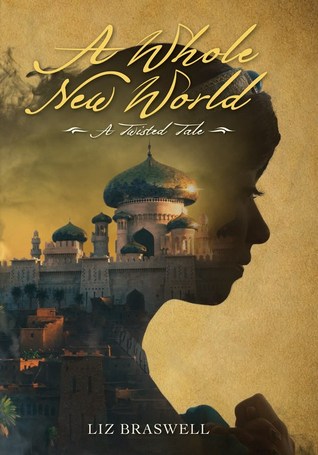 Title: A Whole New World
(A Twisted Tale)
Author: Liz Braswell
Format: ERC
Length: 384 pages
Publisher: Disney Press
Rating: 3 Stars
Welcome to a new YA series that reimagines classic Disney stories in surprising new ways. Each book asks the question: What if one key moment from a familiar Disney film was changed? This dark and daring version of Aladdin twists the original story with the question: What if Jafar was the first one to summon the Genie?

When Jafar steals the Genie's lamp, he uses his first two wishes to become sultan and the most powerful sorcerer in the world. Agrabah lives in fear, waiting for his third and final wish.To stop the power-mad ruler, Aladdin and the deposed Princess Jasmine must unite the people of Agrabah in rebellion. But soon their fight for freedom threatens to tear the kingdom apart in a costly civil war.

What happens next? A Street Rat becomes a leader. A princess becomes a revolutionary. And readers will never look at the story of Aladdin in the same way again. -Goodreads
My Thoughts
For the most part, this story remains very true to its origins until Jafar gets his hands on the genie.
Then things get interesting...
Jafar then goes to some very nefarious lengths to maintain the state of magical martial law that he has imposed on the city of Agrabah.
The most amazing difference between this version of the story and its well known predecessor, is the depth of the relationships that Princess Jasmine is able to forge with both Aladdin and The Street Rats. The longer that Jasmine spends away from the palace, the easier it becomes to see her as both a person and the queen that she is destined to become.
The necessity of defeating Jafar and saving her people, molds Jasmine into the fierce, intelligent, and sympathetic ruler that she must be.
The love of a thief transforms her into the woman that she needs to be as well.
As one would expect, because Jafar runs the show this time around; things are considerably darker. There are a great many deaths and even some torture that may surprise readers.
All in all, this is a good story. Not great, but emotionally appealing enough to justify the time that it takes to read it.
About Liz