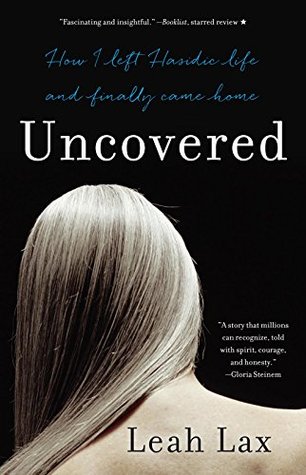 Title:
Uncovered: How I Left Hasidic Life And Finally Come Home
Author: Leah Lax
Format: Print
Length: 256 pages
Publisher: SheWrites Press
Rating: 4 Stars
In "Uncovered," Leah Lax tells her story beginning as a young teen who left her liberal, secular home for life as a Hasidic Jew, and ending as a forty-something woman who has to abandon the only world she s known for thirty years in order to achieve personal freedom.
In understated, crystalline prose, Lax details her experiences with arranged marriage, cult-like faith, and motherhood during her years with the Hasidim, and explores how her creative, sexual, and spiritual longings simmer beneath the surface throughout her time there.
The first book to tell the story of a gay woman who spent thirty adult years in the Hasidic fold, "Uncovered" is the moving story of Lax s long journey toward finding a home where she truly belongs." -Goodreads
My Thoughts
Leah's story is one that resonates with anyone who has ever found themselves at the mercy of an uninformed choice, or living a life that is not based in personal truth.
The fact that the author's choice put her in such a stark and stringent environment, at the time in life when all of the things that come together to form her personhood were on the verge of flowering, is nothing less than a travesty.
Yet, this is a travesty that many men and women stuck in loveless and fulfilling circumstances face everyday. Losing themselves by degrees, justifying lives filled with loneliness and self denial for religion, money, marriage, children...the list is endless.
This is a very honest, and at times difficult look a woman coming to understand her place in a world that says "outside of motherhood and wifery, there is no place for her". It is one thing to be subjected to the prescriptions of convention "on low volume" in the world at large. To have to live one's life confined by said convention, wrapped in the legitimizing cloak of orthodoxy?
I shudder to think of it.
This is a story of hope, resilience, and the power of the spirit. A story that transcends race, religion, class, or creed...and one that I am glad to have experienced.
About Leah
Leah Lax has won awards in both fiction and nonfiction and her work has been included in numerous anthologies and publications, print and online–including Dame, Lilith, and Salon. Her work for stage has been reviewed in The New York Times and broadcast on NPR. She has an MFA in creative writing from the University of Houston.
When she isn't writing, you can find her out walking the dog, or playing her cello, or with her partner kayaking around the world.
Web
/
Facebook
/
Twitter
/
Booksparks