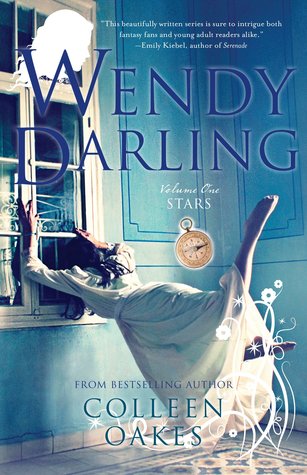 Title: Wendy Darling
(Stars #1)
Author: Colleen Oaks
Format: Print
Length: 256 pages
Publisher: SparkPress
Rating: 4 Stars

From the Best-Selling Author of Queen of Hearts comes a dark and mesmerizing twist on the beloved Children's Classic, Peter Pan.

Wendy Darling has a perfectly agreeable life with her parents and brothers in wealthy London, as well as a budding romance with Booth, the neighborhood bookseller's son. But while their parents are at a ball, the charmingly beautiful Peter Pan comes to the Darling children's nursery and—dazzled by this flying boy with god-like powers—they follow him out of the window and straight on to morning, to Neverland, a intoxicating island of feral freedom.

As time passes in Neverland, Wendy realizes that this Lost Boy's paradise of turquoise seas, mermaids, and pirates holds terrible secrets rooted in blood and greed. As Peter's grasp on her heart tightens, she struggles to remember where she came from—and begins to suspect that this island of dreams, and the boy who desires her—have the potential to transform into an everlasting nightmare. -Goodreads

My Thoughts
While it is very true that this is a retelling of Peter Pan, the characters found herein are older than those found in the beloved classic. As such, there is a far greater emotional depth and range of experience in play here than readers are used to.

Authoress Colleen Oaks, takes her time when delving into Peter and Wendy's world. At least at first.
The opening chapters of her story read very much like the original work. But fear not. Ms. Oaks begins to make quite a differentiating mark for her version of things by the book's mid point.

The Notable Differences

Peter and Wendy
Because Peter seems to border somewhere on the edge of 16 emotionally, his moods often fluctuate between a charming buoyancy and angsty teen.
Wendy too, is older and therefore very susceptible to both Peter's charms and his very swooon-worthy kisses. There is a very interesting dynamic here that works to up the interest level as well as the emotional stakes for Wendy. She has a beau named Booth waiting for her back in London.

Peter and Tink

With Peter being so gung-ho for Wendy, Tinkerbell is pretty much left by the wayside this time around. Though they are friendly, the depth of said friendship is considerably more shallow this time around.
Wendy and John
John seemed to go out of his way to be terrible to his sister. He has always seemed to have the potential for brattiness, but to see it live and in color...ugh!
The pacing of this read holds study at a good mid-range, after a bit of a slow start out of the gate.
There is also a tendency toward repetitive usage of some phrasing.
This is overcome however by Ms. Oaks brilliant powers of descriptive world building.
This is a very good start to what promises to be a very interesting foray into the world of Neverland.
About Colleen