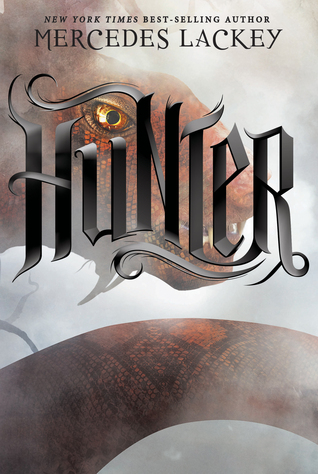 Title: Hunter
(Hunter #1)
Author: Mercedes Lackey
Format(s) eBook Audio
Length: 374 pages, 11hrs 24mins
Narrator: Amy Landon
Publishers: Disney-Hyperion, Blackstone Audio
Rating: 5 Stars


They came after the Diseray. Some were terrors ripped from our collective imaginations, remnants of every mythology across the world. And some were like nothing anyone had ever dreamed up, even in their worst nightmares.

Monsters.

Long ago, the barriers between our world and the Otherworld were ripped open, and it's taken centuries to bring back civilization in the wake of the catastrophe. Now, the luckiest Cits live in enclosed communities, behind walls that keep them safe from the hideous creatures fighting to break through. Others are not so lucky.

To Joyeaux Charmand, who has been a Hunter in her tight-knit mountain community since she was a child, every Cit without magic deserves her protection from dangerous Othersiders. Then she is called to Apex City, where the best Hunters are kept to protect the most important people.

Joy soon realizes that the city's powerful leaders care more about luring Cits into a false sense of security than protecting them. More and more monsters are getting through the barriers, and the close calls are becoming too frequent to ignore. Yet the Cits have no sense of how much danger they're in—to them, Joy and her corps of fellow Hunters are just action stars they watch on TV.

When an act of sabotage against Joy takes an unbearable toll, she uncovers a terrifying conspiracy in the city. There is something much worse than the usual monsters infiltrating Apex. And it may be too late to stop them… -Goodreads

My Thoughts
Joyeaux Charmand is a Hunter. One of a gifted few blessed with the ability to see and defeat the magical creatures of Otherside, determined to feast on those of the human realm.
Her gift having been discovered at a very early age, Joy has spent much of her childhood training in the sheltered safety of a mountain monastic community.


Now in her late teens, Joy finds herself leaving her mountain home to become part of the most esteemed team of Hunters ever amassed. Those chosen to protect the elite citizenry of Apex City.

It must be stated from the outset that though this is a dystopic story with both magical and mystical elements, said elements are not the central focus of this read.
The majority of Joy's conflicts and a great part of the story concern the great many battles that are taking place inside her.
1. Joy's having to deal with the culture shock of coming from the straightforward simplicity of a life lived among monks; to one lived on her own and full of the unwritten rules and social expectations of life of a celebrity in Apex City.
2. She must also establish her place among the Hunter packs. Being so young and possessing as much skill as she does, doesn't work to help matters. Often, Joy finds herself having to prove that she is worthy of her position, recognition, etc.
3. Joy makes herself an accidental target of political intrigue; when she stumbles upon information that the ruling parties of Apex City are engaging in an active cover up. Deliberately hiding the seriousness of the Othersider attacks from the citizens of Apex City.
4. The most emotional conflicts that our young heroine faces are those that concern her personal relationships. Whether it be the tentative nature of her relationship with her rich and powerful uncle, the losses of her fellow Hunters as the battles escalate, or the juxtaposition of a her professional versus her romantic lives; these are by far the most compelling aspects of the read.
Mercedes Lackey takes special care to explore a multitude of legends and lore when crafting both the belief systems for her characters and the creatures of the Othersiders. Most impressive by far...
The relationship between Joy and the hounds with whom she shares her work and her life. A variation of the Greek "hellhounds of Tartarus," Joy's hounds have specialized abilities which make them invaluable to her as a Hunter.
This is a wonderful introduction to the Hunter world. This book is so well written in fact, that it would be a fine stand alone.
Reviewer's Note.
I read this book in both audio and eBook.
As such, I must commend narrator, Amy Landon on her portrayal of Joy. She does a wonderful job of helping Joy to maintain her youthfulness; while never letting the reader lose sight if the severity if many of the situations in which she finds herself. Her honest and straightforward depiction of Joy, makes her a very likable person, and keeps reader attention focused on her during times when there is a lull in plot or action.